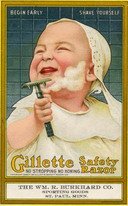 In spite of the fact that Liverpool FC are better placed than ever to lift their first Premier League title, there has been a cloud hanging over the club of late. Not because their talismanic captain punched a DJ who wouldn't play Another Day in Paradise, but because of their unheralded financial woes.
Little would you think it, what with Rafa Benitez's lavish spending and their spot at the top of the table, but, other than Portsmouth, Liverpool are financially the most precariously placed club in the Premier League.
Only last month the purveyor of fine football clubs, the Orville-less Keith Harris, went as far as to say that Liverpool are in real danger because of global credit crisis.
It all stems from the £400m loan the club's American owners, Tom Hicks and George Gillette, took out to "buy" the club.
Liverpool owe £350.5m to troubled lenders the Royal Bank of Scotland and Wachovia in a deal due to expire on January 25th. Even on its favourable terms the loan currently costs the club £30m a year in interest.
With banks withholding their credit in the current economic climate, it has become far more difficult to get large-scale financing on such good terms. In spite of the fall in interest rates, the reluctance of financial institutions to lend large amounts of money means Liverpool could expect those already hefty interest payments to rise sharply, with a real risk of pushing the club towards insolvency.
Alas, it turns out that the disposable razor business differs quite considerably to running Liverpool football club. The American duo of Hicks and Gillett have been the least successful Anfield partnership since Roy Evans and Gerrard Houllier.
Shelved, has been the plan for a new stadium at Stanley Park – the remit upon which the two buccaneers came riding into town upon – and relations between the two have been reduced to mere cordiality, having both lost a large proportion their initial investment.
The irony is that whilst the club is a shambles behind the scenes, on the pitch the team are flying high. As much as Rafa Benitez likes to complain, the two Americans have, begrudgingly, wholly supported their manager in the transfer market.
Since the plucky duo took over a little under two years ago they have shelled out £26m for Fernando Torres, £21m on Javier Mascherano, £19m on Robbie Keane and £11.5m on Ryan Babel, along with plenty more on others. That kind of spending would hit anyone's back pocket.
However, as the deadline approached and Liverpool FC's unheralded financial demise awaited, it was announced earlier today that Hicks and Gillette are to be given a minor stay of execution. The Royal Bank of Scotland and Wachovia have agreed to extend the loan on its current favourable terms until July 24.
It's a good job their Chairman is used to close shaves.