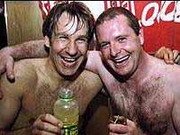 Like I imagine many a football fan did, I sat down to watch Channel 4's documentary on Paul Gascoigne on Monday evening titled 'Surviving Gazza'. What followed over the next hour and twenty minutes proved to be a depressingly up-to-date biopic of the one time footballing genius. The tale and career of Paul Gascoigne has seen him idolised many times over the years, and despite his shortcomings, controversy, and often self-destructive behaviour he was always a fan favourite wherever he ended up.

I remember all too well the excitement of being able to see him play in the flesh myself, soon after he had been transferred from his highly successful stint with Rangers to the less glamorous surroundings of Middlesbrough in early 1998. I managed to cram myself into the terraces of Elm Park to watch Gazza play in midfield with Paul Merson as Middlesbrough maintained their quest for the Premiership and Reading headed for relegation from Division One as it was then, the regret of not getting a programme still haunts me!

Even at this later stage in his career Gascoigne was always a massive draw and a player that fans felt, unlike most others, was one that had the unpredictable ability to do something magnificent on the football field. I maintain to this day that he deserved his last hurrah at the 1998 World Cup, particularly after his performances in helping England to qualify.

Despite this it appears ever more evident ten years on that Glen Hoddle's reasoning for dropping Gascoigne from the England squad, relating to his health and drinking, were a warning sign that was ignored. As Gascoigne's career ended his decline started to gather pace personally and it has become increasingly evident in the last three years that his problems are far worse than were originally taken for granted.
Footballers have always had a reputation for drinking and even though it has become less and less of a concern for the current generation as dieting and professionalism has improved, recent incidents that have concerned Joey Barton (in particular) and Steven Gerrard demonstrate the problems drink can cause.

The actions of Gascoigne and the allegations from his ex-wife Sheryl, regarding domestic violence, paint a very different picture to his public persona. He famously came to prominence with his tears and brilliance at the World Cup Italia '90, and was and has always been regarded as a 'clown' and character who has entertained everyone he met.
After watching 'Surviving Gazza' I had to face conflicting emotions, anger for how tragic his life has turned and for his abuse of himself and inexcusably of his family. Of course at the same time there is the undeniable sense of pity and sadness that he has fallen as low as he has, and ultimately it is a tragedy that he is currently driving himself to the same sad conclusion as the late George Best.

Perhaps the similarity between these two precocious talents is explained by how great their talents were on the football field. By how they failed to cope with the transition away from fans adulation, to a life after their playing careers had ended. Neither of them would be the first professional footballer or indeed sportsmen to admit that retirement was an extremely difficult thing to get used to.
There are countless examples of boxers as well as other sportsmen and women who have found retirement so difficult that they re-enter their old careers, quite often to the detriment of what they achieved before. With football this is very rarely a realistic option though, instead as Gazza has already attempted with Boston and Kettering, there are other ways to stay in contact with the game in terms of coaching and management.

I can only wish Paul Gascoigne all the best as he attempts to battle his addictions and demons, he has made many mistakes some of which can't be excused, but at the same time he brought joy and entertainment to the world's greatest sport. It would be comforting to see him well and involved in football again at some level, perhaps it would be where he'd be happiest and safest.
Alas, in his time of need, and suffering with the addictions he has, there is no doubt that he must want to help himself first in order to turn around his plight. Frustration also lies in how eager the tabloids are to report the continuing demise of Gascoigne after capitalising on him in the past. This isn't a surprise, it's the nature of their game, but it would be a sad waste if 'Surviving Gazza' was to be the last rites of such a popular footballing icon.