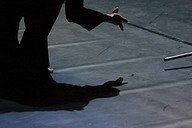 Witness Manchester United and England defender, Rio Ferdinand, playing the role of 'Fizzy' in a school adaptation of Bugsy Malone.
Rio's early thespian instincts pale in comparison to the hilarious 'Mercs' he carried out prior to the 2006 World Cup; but the 'gangster' role is somewhat fitting for a man who plans to pursue an R&B career once his playing days are over.
Lest we forget manically depressive, woman-beater turned pundit, Stan Collymore - another footballer to flirt with the big screen.
In this opening scene of the straight-to-video title, Basic Instinct 2, Stan gets frisky in a car with Sharon Stone, only to be killed before the opening credits role.
Again the role is somewhat fitting for a man who can add 'dogging' in a Birmingham car park to his lengthy charge sheet.
Do you know of any other footballers, barring than Vinnie Jones, who have traded performances on the pitch for performance art? If so let us know.