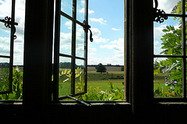 The recent phenomenon of the mid-season January transfer window has just finished its second week for 2009 and as of yet there have been few major signings to occur. Clearly the transfers most worth speaking of so far have been Wayne Bridge leaving Chelsea to join Manchester City, and last week's return ticket of Jermaine Defoe to Tottenham from Portsmouth.
The other serious news occurred on January 1st when Lassana Diarra also left Portsmouth, for a quite staggering £20 million from Real Madrid. The Diarra move is different from the others, though, in that it premeditated the transfer window by a few weeks and just had to wait for the official opening of business.

In fact, most transfer activity thus far has involved clubs beneath the Premiership, and a lot of deals being negotiated are not permanent but rather of the loan variety. What can be taken from this is how much the different leagues really regard the transfer window. There have generally been the occasional large deals between Premier League clubs, and sometimes the Championship clubs may lose their better players to them. Otherwise money is not splashed around as much as it is predicted to be, hence the number of temporary deals which often see Championship clubs trying to strengthen with Premiership reserves. Despite all the pre-window hype it is as if most clubs are running scared of the concept.

What is roughly a month of activity has been touted by some managers, such as Steve Coppell, as far more of a distracting hindrance than a help. On the evidence available it is easy to concur with the Reading manager, as he has adhered to in past comments on the subject, the January transfer window often leads to intense fevered speculation in the press. Clearly there is a large potential for clubs and players alike to become destabilised by the daily flow of transfer rumours that accompanies the pressurised atmosphere, caused by a small window for transfers in the middle of the season.

In some way it makes sense for the major football leagues of Europe to operate under a uniform transfer window policy, at least this means there is a semblance of an even playing field and that some clubs can't out-manoeuvre others on the basis of their national rules. The mistake by FIFA was in making it compulsory for the major European leagues to adopt the system of transfer windows during the 2002-03 season. Instead they should of dropped the notion of constricted periods of transfer activity and resorted to allowing all of the leagues across Europe to transfer players if and when they liked.

This may seem overly generous but ultimately it would not have any detrimental effect on football itself, it could be argued that this would simply allow the richest clubs to hunt down their favoured transfer targets at any inconvenient part of the season. This may be so, but at the same time it would allow clubs who end up selling their best assets an open season for garnering their own replacements. In the end it makes no difference, if a player is attracting wide interest from bigger clubs then it will only be a matter of time until they are usually tempted by the challenge, or if you're cynical the money on offer. At least without the confinements of the transfer window clubs would be able to live without the fear of the dead-line deals that have become familiar in recent years.

Many of the largest and most controversial transfers in recent memory have occurred with the hours ticking down on the transfer window. The likes of Wayne Rooney, Ashley Cole and, of course, Robinho were announced at the very death of their particular transfer windows. These have all been exciting episodes for the media and at times for the fans as well, just as long as it wasn't your club losing the star player. Unfortunately what FIFA have managed to do is conversely weaken all but the most powerful clubs and to further empower players who are haggling for a move to pastures new.

With the transfer windows as they are clubs are forced to make do with what resources they have. This isn't necessarily a bad thing, but on the other hand it has given the likes of Real Madrid ample time to chip away at their transfer targets. Transfer dealings are now less done behind closed doors but rather manipulated and spun through the newspapers and gossip columns. This is really what the transfer window has caused and become. It is a time-consuming sideshow that has contributed to some of the less appealing aspects of modern player power since the Bosman ruling, and FIFA would do well to redress it.