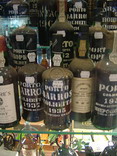 Back in 1703 some Portuguese chaps and some English chaps signed a Treaty, the Methuen Treaty it was called, to allow the import of Portugal's finest Port to England at a low duty, all because the French were at war with the English and consequently wouldn't let them have any wine.
Since then the English have remained partial to a drink and Portugal has continued to have its finest treasures poached by the blighters, but apparently not this month.
Despite having all but-signed Benfica's Ariza Makukula, the Congolese chap has since been to West Bromwich and decided he doesn't want to spend six months living in the Black Country.
He said: "It's true that I was initially interested in the idea of playing for West Brom, but when I got there I saw it was completely different to what I had been told." He obviously hadn't been told it was a rundown s**thole then.
However, the man doesn't have the letters "ku" in his name twice for no reason, as he is coo cooing at anyone who will look at him (except West Brom), insisting that he is off anywhere either on loan or as a permanent deal, which doesn't really come as a surprise considering Benfica haven't fielded him at all this season. However he might be surprised when he learns that Benfica want shot of him once and for all, meaning that he can forget any loan deals.
Chelsea are apparently lining up a bid for the scorer of the most overrated goal in the history of the world. Angel Di Maria scored it in Benfica's 4-1 drubbing of lower-league Olhanense on Wednesday night, and just because Maradona was in the crowds his goal seems to be drawing comparisons to the one they call "El Pibe" here in Portugal.
Anyway, even before he scored that Scolari thought the winger could bring some attacking schwing to his useless excuse of a team, although Abramovich's wallet wants to wait until the end of the season, when it will probably also be chipping in towards Big Phil's leaving present.
The umpteenth in a line of young Argentinaian's dubbed "the new Maradona" cost Benfica just over £5m in July 2007, but Chelsea would need to cough up £15m, if they can beat Real Madrid to the young man's signature.
Also, in news so boring I can't be bothered to pad it out at all, Marco Zoro might be going to Blackburn or West Ham, but probably Blackburn.
A few Sporting players are provoking chairmen to have a rattle of their piggy banks too, with the sparklingly brilliant Marat Izmailov attracting interest from a host of clubs way below his level, including Paris Saint Germain, Dinamo Moscow and Shakhtar Donetsk.
Much more likely to move is Miguel Veloso, who has been linked with more clubs than a binge-drinking 18 year old can make it round on a Faliraki summer holiday.
Fiorentina, AC Milan, Juventus, Tottenham, Arsenal, Newcastle, Everton, Manchester United and of course Manchester City have all supposedly expressed an interest in paying the Portuguese's hair gel bill.
Last of all Simon Vukčević, a man who simply can't stop scoring this week, won 3-2 last night when he played a game of Fifa '09 with an unnamed friend. He also got linked with Middlesbrough, much to his chagrin, probably.
And Porto. 
Apparently The Dragons' Raul Meireles is attracting interest from Newcastle, but they're probably not attracting any from him. The 25-year-old Portuguese is a regular in a side playing Champions League football and in no danger of getting into a relegation battle, so he'd be a total idiot to go to a team with no hopes of Champions League football and a relegation battle in the offing. 
In deals that should happen but won't, despite being the shit Porto's Hulk doesn't seem to have been linked with anyone, although I really think Arsenal should be looking at him. He's a big brawny bugger with pace and moves, he scores goals and could add some real oomph to a team looking distinctly oomph-less at the moment. 
Nacional's Nenê is a goal machine, but no-one seems to care. He's got nine in 13 games this season at a distinctly average side, and could probably be had for below £10 million, which considering he's only 25 might be a tidy bit of business. 
Are there any players from the Portuguese league that you think Premiership teams should be taking a look at? If yes, please post them below. If no, away with you.