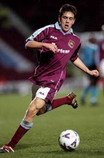 Although widely admired domestically, not everyone would agree that Joe Cole deserves a place in the top bracket of English players. However, ask a continental observer which English player they most admire and amongst the Wayne Rooneys, John Terrys, Rio Ferdinands and Steven Gerrards, there are a surprisingly large number of Joe Coles.  
In England, Cole is seen as somewhat of a luxury. Someone who can add a little bit of magic, but whose importance and effectiveness pale in comparison to that of a hard-working midfielder.
However, whereas Cole is often undervalued in his homeland, elsewhere on the continent players in his mould are revered by aficionados more appreciative of the subtler arts of the game. 
When he broke onto the youth scene the word was that West Ham had unearthed the greatest talent of a generation. In one youth international Cole scored 7 of England's 8 goals in an 8-1 drubbing of Spain, and his first forays into West Ham's first team confirmed the notoriety. 
10 years later and Cole has achieved as much as anyone can hope to in the game. At Chelsea he has won two Premier League crowns, an FA Cup medal, two League Cups and has played in a Champions League final. He has 53 Caps and 10 international goals.  
Yet, in spite of these undoubted successes, there is still the impression that the diminutive Londoner has never truly fulfilled his early promise. 
Perhaps Cole's greatest problem is that he was born in the wrong country; that the physicality, cut and thrust of English football aren't suited to his more measured and technical game.   
Although Cole isn't lacking in pace, and he has an excellent burst of acceleration, he isn't fast enough to readily beat players with the ball at his feet. That's what separates him from the most successful flair players in the Premiership.  
This is indicative of the frenetic counter-attacking style of English football - you need to be very fast - and is in contrast to elsewhere on the continent, where patient build up play and probing forays are used to break teams down. In an environment in which there is more time on the ball and the quality of possession is of greater importance, Cole's craft and guile would be more effective. 
Another problem for Cole is that he doesn't have a set position.  
These days the Premiership, and football as a whole, doesn't often allow for two strikers - let alone a free-roaming attacking midfielder.  
For Chelsea, Cole has been primarily deployed in a wide role as part of a three-pronged attack. But he is by no mean a natural winger. When have you ever seen him beat a full-back and deliver a cross from the bye-line? Never.  
But neither is he suited to a central midfield berth, having not the strength, determination or discipline to be relied upon in the role.  
And although he is a good finisher, Cole also lacks the attributes – primarily physical prowess and pace – to compete as a forward.  
During his time at West Ham, Cole was indulged. He was given a free role with license to float in the final third and drop deep to collect the ball, bring it forward and make things happen. It was during this time that his reputation was cemented.   
Unfortunately the prime of Joes Cole's career has coincided with the evolution of a scientific approach to football. Particularly at Chelsea thanks to its main proponent, Jose Mourinho, success has been achieved by strict adherence to rigid tactical stratagems that emphasise  a team's shape and structure over the expression of individual talent. 
Ultimately, Cole is a romanticised notion of what most footballers aspire to be - a creative and visionary player with impeccable technique. But in spite of making it to the top, what we have learnt is that the traditional English virtues of grit and determination are still held in the highest esteem in the Premier League.  
Perhaps the opportunity to play abroad would give Cole the opportunity to flourish. Given the confidence, belief and freedom to play as he so desires, it is possible he can still realise his full potential. After all he has just turned 27.   
Unfortunately for Cole, and for English football, perhaps the greatest English talent of a generation has been stymied by the contemporary game.