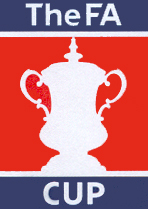 The FA Cup re-claimed the agenda over the weekend with the competition resuming at the fourth round stage. For anyone concerned about the 'romance of the cup', two non-league clubs had managed to win their way through thus far - Kettering Town and Torquay United - both of the Blue Square Premier (or if you keep forgetting like me, the Conference!).

Kettering had beaten Lincoln City in round one and then Notts County in round two, both of whom linger exactly a division above Kettering in mid-table of League 2. They had then held their nerves to overcome lesser opposition in round three in the form of Eastwood Town, from the Unibond League Premier Division. Such is the beauty of the FA Cup though, Eastwood Town themselves had been a part of some giant-killing of their own by dispatching League 2 leaders Wycombe Wanderers in round two.
This time around Kettering were facing even sterner opposition in the guise of Fulham, but at least with a home advantage. Fulham, despite having not yet won an away fixture in the Premiership this season, have markedly improved under the guidance of Roy Hodgson and since their miraculous relegation escape in May.
The game itself encapsulated the form building up to it as Fulham struggled throughout to finally dispatch of their non-league opposition, and were perhaps wary of their struggling away form. Kettering would may have thought that their 83rd minute penalty had earned them a deserved draw, but Fulham showed their new resolve under Hodgson and cruelly sucker-punched the home team with two late goals via Andy Johnson and Bobby Zamora, leaving the score 4-2 at the final whistle.
Meanwhile, Torquay United had notably defeated Championship Blackpool in the third round and drawn accolades for their approach and style of football, which seems to be propelling them to a possible return to the professional leagues. Torquay's reward in the fourth round was also a home draw, this time against Chris Coleman's Coventry City.
Much like their Blue Square counterparts, Torquay were left cursing their inability to take their chances and capitalise on a lacklustre display from Coventry. Unfortunately for them the game also had a twist in its tail as Coventry grabbed an 87th minute goal through Elliot Ward, and made off with a barely credible smash and grab 1-0 win.
With the final two non-league teams ejected from this year's FA Cup, the rest of the fourth round saw familiar tales of near-upsets as the bigger teams negotiated some difficult games.
With the FA Cup history involving Cardiff City and Arsenal, there were suggestions that the second most successful team in the competition's history would face an embarrassing defeat at the inhospitable Ninian Park. Thankfully Cardiff were unable to match their FA Cup winning predecessors of 1927 - although at times in the first half it looked promising for them.
The game was quite scrappy overall and during the second-half Arsenal gained the momentum without ever looking like they would convincingly win. Cardiff managed to hit the top of the cross-bar with a few minutes remaining, but this was a result that is best described as a fair 0-0. I expect Arsenal to go through in the replay though.
Elsewhere, Portsmouth filled the gap of being the only real shock of the round, many had suspected that their defence of the FA Cup would be more short-lived than their proud run of last season. It proved to be so as Portsmouth were mostly out-played at home by Swansea City. The game could be noted for the low-key debut of Jermaine Pennant for Portsmouth, but he will certainly have to offer more for Tony Adams over the rest of the season.
Swansea instead offered up servings of why they are regarded as exponents of good slick football as they attacked Portsmouth with gusto and built a 2-0 lead in the first half thanks to goals from Nathan Dyer and Jason Scotland. Portsmouth offered smatterings of a possible comeback throughout the second period but could not make the vital breakthrough. Peter Crouch came closest when he hit the post but by that time Portsmouth's grip on the FA Cup was lost.
Derbies were a flavour of the fourth round as local rivals faced each other too, with much attention put on the fixture between Derby and Nottingham Forrest. The appointment of Nigel Clough at Derby managed to add an extra historical edge to the proceedings. Whilst over at Anfield there was the 210th installment of the Merseyside derby. Liverpool huffed and puffed and finally relied on Steven Gerrard, whereas Everton produced a master-class in resolute defending and dogged determination - something which irked Rafa Benitez. Naturally both games resulted in hard-fought 1-1 draws and the anticipation of a replay.
There was a feeling of inevitability about Manchester Utd's defeat of Tottenham at Old Trafford, with the one surprise being Spurs taking a 1-0 lead after only five minutes. The recent worrying defensive traits of Harry Redknapp's team meant that their most realistic chance of a result lay in frustrating United. Unfortunately for them they conceded two quick goals before half-time and the second half was predictable as Tottenham chased the ball without any real sense of purpose.
Likewise, Chelsea dispensed with some of their recent inconsistency and jitters to confidently end the cup campaign of Ipswich Town with a 3-1 win. West Ham United avoided any slip-ups away at Hartlepool, winning 2-0, and they continue to defy critics who have predicted doom for Zola's team since their financial difficulties took hold.
A minor surprise came in that Aston Villa could only earn a 0-0 draw away against Championship strugglers Doncaster Rovers. In fact, Villa came close to being knocked out by a late freekick. This would of been a shock when considering the revival of the club under Martin O'Neill, and a nasty reminder of how the club has perennially under-achieved since their 1980's hey-day. In their current guise though I would expect them to reach the fifth round as well.
As for the FA, the game at Old Trafford had sparked some rumours that Sir Alex Ferguson had happened upon a rule that he may have considered invoking, these were subsequently denied by all at Manchester Utd. It hasn't stopped the FA from thinking about reviewing Article 11a though, which allows teams to agree to a half-hour period of extra time in an effort to avoid potential replays in the FA Cup.
The FA maintains that this rule is in existence for the benefit of clubs that play in the preliminary rounds of the FA Cup, and does so by giving them the option to avoid lengthy journeys and extra financial costs that may be incurred. It is thought that by adding the wording "preliminary competition" into the rule, that the FA could maintain the opportunity for smaller clubs only to use it in future.
Nonetheless it is always interesting to see the potential for unprecedented actions taken by clubs, and it would certainly of caused a lot of controversy if Manchester Utd had tried to invoke it at the weekend. It would have to be argued that Article 11a, whilst helping smaller clubs with their costs during the preliminary rounds, would consequently bring harm to their finances in the later rounds. For example, smaller clubs would potentially lose out on the financial benefits of a big-money replay away at a Premiership club, such as Burton Albion achieved against Manchester Utd a couple of seasons ago.
With the FA now planning to review this rule, it seems that any chance of Article 11a causing controversy will be avoided, which I have to say is a good thing. This is not only because it will stop any large clubs who wish to avoid a 'time-consuming' replay, which could then disturb this form of money distribution to smaller clubs. More simply because the replay is a time-honoured tradition that due to their nature have conjured up many a classic game over the years, encapsulating the tension, joy and distress that such knock-out encounters can deliver.