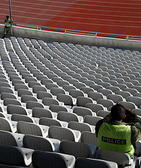 The Liga Sagres struck new low this week as only 514 people showed up for Estrela Amadora's game with Rio Ave.
If a figure like that needs putting into perspective, the lowest ever attendance in England was 469, which happened at a game between Thames and Luton Town in 1930.
Although it is somewhat amusing to imagine such a paltry number of people at a top flight game in Western Europe, it's really quite tragic in that it highlights the appalling shabbiness of the Liga Sagres.
Only Benfica, Sporting and Porto regularly draw crowds of over 5000, yet even this weekend's game between Belenenses and Benfica only managed to draw 8548. At just 43% of the stadium's capacity, it's a shocking figure considering the fact that the game was also a local derby.
The low attendances seem inexplicable for a nation so obsessed with football, where the first question people often ask each other is "Sporting or Benfica?" Yet you're much more likely to find a café packed with people watching a game than the ground itself, a fact which must bubble down to both economic realities (the average wage is around €600 a month) and, to be frank, the poor quality of the football.
Belenenses vs Benfica                                        
The 8548 who did fork out for the Benfica game witnessed a 0-0 draw, a score-line which regularly resonates through stadium speakers in Portugal. In fact nine of the last 40 games have ended 0-0, and the last time every game of the weekend saw some goals was at the end of November.
The rain-sodden Belenenses pitch helped the two teams keep chances down to a minimum. Pablo Aimar had the best of those that did arise in the first half, as he first of all took advantage of a poor clearance to run at goal, but the Belenenses defense forced him wide and his shot was easily saved.
He later flicked his sodden hair in the eyes of his marker as he quite fancily spun the ball past the now blinded defender, but the spongy pitch took any venom out of his shot and it dribbled easily into the keeper's arms. His best chance came as Ruben Amorim's cross was deflected on to his head, but the rain all over his locks probably distracted him as he bounced it over.
Belenenses did plenty to show why they've only managed 12 in 15 games as they even failed to convert when clanger-merchant Moreira put it on a plate for them.
Having punched out a corner with all his limp-wristed might, he set the ball up perfectly for Wender, but the man whose name would provide rich material for limerick-writers only managed to scuff it wide from eight yards out.
Suazo opened the second half with a pathetic dive (see 50 seconds into the clip) which earned him a booking. Having been released by Di Maria he pushed the ball acres beyond the keeper as he went past him, then decided to fall down about three yards later when he saw the ball flying out for a goal kick.
Reyes and Nuno Gomes were brought on mid-second half and combined to get the ball in the net, although Mr Gomes was too busy playing with his hair to realise he was a good two yards off side as Reyes crossed for him.
The totally unimpressive and overrated Di Maria came off after 72 minutes before Miguel Vitor got a second yellow for Benfica as he hauled down Wender. He needn't have bothered though as Belenenses continued to shoot about as accurately as Park Ji-Sung after a night on the tiles.
Porta seemed so aware of his team's inability in front of goal that he tried diving instead, but received only a yellow card for his troubles.
Nacional vs Sporting
Sporting started with goal-happy Vukčević pushed back into midfield as Postiga inexplicably returned to the starting line-up. Meanwhile Nacional fielded the league's top scorer Nenê as they looked to move into fourth place alongside Leixões, who had notched up their third consecutive 0-0 the previous night away at Marítimo.
The game started Nacional's way as Nenê brilliantly lobbed Rui Patrício with a half-volley from nearly 30-yards. Amidst all the Liga Sagres players being linked with moves abroad Nenê's name does not seem to have been mentioned once, but with 10 goals in 15 games I wouldn't be surprised if someone took a punt on him as the transfer window starts to creak shut.
Nenê showed he's not tactically unaware either, falling in the box after making minimal contact with Grimi and earning a penalty. He duly took the spot kick, but Rui Patrício came out victorious this time, diving low to his right to keep Sporting in the game.
Sporting looked a shadow of the team that had crushed Paços Ferreira 5-1 in the cup the week before, and understandably, because Nacional are a much stronger side that look good money for a fourth place finish this season. The midfield was given little time or space, although Rochemback did fashion himself a good opportunity, dinking past one before hitting the side netting from the edge of the box.
Sporting finally managed to start playing a bit as half-time approached and they grabbed an equaliser in stoppage time. The club's two form players, Izmailov and Vukčević, combined as the latter poked home the former's cross to get his fourth in four games.
Unfortunately for Sporting Vukčević was carried off on a stretcher early in the second-half after getting clattered in a battle for a header. He was taken to hospital with head injuries, but will reportedly be ready to return to training on Tuesday.
Pereirinha came on for the Lions and looked good once again. He must surely be pressing for a starting place as Paulo Bento once again decided to withdraw the totally ineffective Postiga.
Provided Vukčević is fit to play, Bento must see that playing him up front and slotting Pereirinha in to the midfield makes much more sense than persisting with the €2.5m mistake that is Postiga.
Braga vs Porto
Unlike Benfica and Sporting, Porto were able to muscle a win against strong opposition in front of this weekend's biggest crowd – 14,182.
Cristian Rodriguez showed deft control to open the scoring on 20 minutes with his fourth goal of the season.
Porto found themselves two up on 30 minutes after a pass from Raul Meireles some how found its way to Lisandro on the edge of the box. The Argentinian needed no further invitation and cooly slid the ball past the keeper into the corner.
New signing Cissokho also looked good, dashing down the left and providing plenty of crosses, as Porto never really faced any serious threats from a disappointing Braga side.
Porto have once again returned to the top of the table, and will be good value to maintain their position their as they face what should be a simple enough trip to Belenenses next week.
The rest
The two bottom teams did little for their causes, Vitoria Setúbal losing 0-1 at home to Naval and Rio Ave 2-0 away to a somewhat resurgent Estrela Amadora.
Paços Ferreira got over their 5-1 battering in the cup last week by seeing off Trofense 1-3, while Académica managed to put a bit of difference between themselves and the relegation zone by beating Guimarães 2-1.
The top
Porto - 31
Benfica - 30
Sporting - 30
Leixões - 27
Nacional – 25