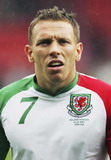 Manchester City were very publicly snubbed by Kaka, missed the boat on Lassana Diarra and have been quoted exorbitant prices that they aren't willing to pay for Valencia duo David Villa & Silva. The sheiks will no doubt be delighted however that City boss Mark Hughes did manage to snare his Welsh compatriot, the meek and mild mannered Craig Bellamy. Is £14 million for the fiery nomadic hitman good value? You be the judge.


Bellamy started his career at Norwich where he showed much promise amid several spells in the treatment room, injury curtailing him to just 84 appearances in 4 seasons. His 32 goals for the Canaries seemed a good enough return for Coventry boss Gordon Strachan, who signed him for £6.5 million.

 A terrible start saw him score only 3 goals in his first 5 months in the top flight - 2 of which were penalties. Things weren't going his way on the international scene either, as the Welsh World Cup qualifying campaign got off to a losing start in Belarus, with Bellamy red carded for violent conduct. It was a subsequent call-up that caused dissention amongst the Sky Blue ranks when he criticised Coventry for withdrawing him from the Welsh squad amid claims he wasn't fit. Bellamy played the race card, saying "This is the down side of playing for Wales. It would certainly not happen if I was an English player." I would have thought the down side of playing for Wales would be playing for a crap team who never qualify for major tournaments, but not according to Bellers.

A paltry return of 6 goals in 34 games made for a terrible season in which Coventry were relegated. Despite his tepid form, Bellamy made it clear that he wasn't willing to drop back down to the Championship and fortunately for him, the eternal mugs that are Newcastle Utd offered to stump up £6 million for his services. Upon joining the Geordies, the affable Taff would describe Coventry as "rubbish" and claim that he had regressed as a player by joining them.

Bellamy's stint at Newcastle was certainly entrenched in controversy. A good first season was severely tarnished by a police caution for common assault following an incident with a 20 year old female student. His second season saw a topsy turvy Champions League campaign in which he scored vital goals, but also received 2 red cards. The first was for head butting Dynamo Kiev's Tiberiu Ghioane and the second came after just 4 minutes of the Magpies 4-1 home defeat to Inter Milan after he clashed with Marco Materazzi.

It was a season marred by numerous disciplinary issues for Bellamy and after getting charged for misconduct for hounding the referee following a Tyne-Tees derby he bleated that "I feel as though I've been picked on because of my reputation and that is harsh." He's right, he should've been picked on because he's a shirty little dwarf. Sir Bobby Robson suggested that the petulant Bellamy 'count to 10' before reacting on the pitch.

His third year on Tyneside saw him mostly on the sidelines as a recurrence of his persistent knee problems dogged him continuously. This left the cheery chappy with plenty of time on his hands for socialising and when he wasn't getting thrown out of Cardiff nightclubs, he was being refused entry into them. He was found guilty of using threatening, abusive or (racially) insulting language towards an Asian bouncer when he was denied access to a club that the doorman had ejected him from a few months previously.

When he did get on the pitch he managed to cause trouble, inciting Championship side Wolves fans when he kissed the Premiership badge on his shirt following Newcastle's cup defeat. He followed that up by criticising Robson's tactics in the post match interview.

The Welshman's disrupted (and disruptive) season left him boiling over with frustration, his prevailing mood characterised by an incident in Newcastle airport on the way to a UEFA cup game, when Bellamy is reported to have thrown a chair at first-team coach, John Carver. Legendary manager Sir Bobby Robson departed a few months later and infamously referred to Bellamy as "a man who could start a fight in an empty room".

It didn't take Bellamy long to rub up the new man at the helm, Graeme Souness. After a foul mouthed tirade following his substitution against Charlton, Bellamy is said to have squared up to his old buddy John Carver and Souness at the following training session. The row simmered along for a couple of months then blew up again when Souness asked Bellamy to play right midfield. Apparently, Craigy boy was a bit miffed about being asked to start out of position and threatened to fake an injury rather than play - although Bellamy later denied these allegations and branded Souness "a liar". Stubbornly he re-iterated that "I won't apologise because I have done nothing wrong, there's no doubt about it, I am out of here" although he later remarked that "this club means so much to me. I couldn't do it because I know I couldn't come back here and play against Newcastle. It would hurt too much." Hmmm, so who indeed is a liar, huh Bellers? I seem to remember him scoring for West Ham at St.James just this month.

To the shock of no-one, Craigy baby was off-loaded in a loan move to Celtic. If Bellamy was under any illusion as to his persona non grata status on Tyneside, he would have been enlightened by Souness's next press conference in which he stated "the chap that's just gone has scored 9.3 goals a season in his time in senior football - half of those weren't even in the top flight. That's not good enough for a striker at a club like this." Newly appointed coach Terry McDermott chimed in with "people who have been at this club for 30 or 40 years have come up to me begging me not to let this fella back into the club. I have no axe to grind with Craig Bellamy. I've never met him and he's done me no personal harm. But in the six days I've been here what I've heard from many sources means I don't want to meet the guy. I've been involved in football all my life, but I've never come across so much hatred and unrest over one person." A mirthful soul who brings joy to all around him clearly.

Not one to let others have the last word, Bellamy exacerbated the situation and poisoned the river into which the burning bridges had fallen, by sending insulting text messages to chairman's son Kenny Shepherd and captain Alan Shearer following the Geordies FA Cup semi-final exit to Man Utd. The texts to 'Super-Al' are reported to have contained such gems as "your legs are gone, you're too old, you're too slow" and the delightful "You couldn't even kiss my a**e." Shearer, a man so passionate he famously celebrated Blackburn's 1995 Premiership title win by applying creosote to his garden fence was moved to suggest that if he came across Bellamy again he would "knock his block off".

Meanwhile, our lovable lamb luster was winning friends north of the border when it was reported that the Welshman had told chums that he was unhappy with the training facilities at Celtic. Then, after scoring his first goal for the club in a 5-0 romp against Clyde, Bellamy is said to have taunted veteran midfielder Darren Sheridan about their wage disparity with the barb "you'll be doing my garden in the summer". Bellamy went on to enjoy some success in Scotland, as anyone with in a modicum of talent is apt to do, scoring 9 goals in 15 appearances and winning his first and only trophy: the Scottish Cup.

It was this form that inspired his former Wales mentor Mark Hughes to bring him to Blackburn in a £5 million move. Despite being plagued by niggling injuries once more, Bellamy found some form and scored 13 goals in 27 league games. Maintaining his squeaky-clean image, the striker was arrested for allegedly assaulting a woman in one of the remaining establishments in Cardiff from which he isn't barred. Classily, he would later have to cut short his honeymoon to attend a court hearing about the dispute, but was subsequently cleared.

Hughes stood by him though and confident that his young protégé would stay loyal to the club that had given him some stability, said at the seasons conclusion that "we're a top-six side and looking to kick on. I'm more than confident that Craig will be here next season."

Famous last words as Rafa Benitez launched a £6 million raid and Bellamy gushed that "the fact that it was Liverpool made it impossible for me to turn them down." As I'm a fan, it doesn't matter what club I was at. I could never turn Liverpool down." So, turns out the proud patriotic Welshman is a red rather than a bluebird.

Like current lifelong Liverpool fan Robbie Keane, Bellamy struggled to impress early in his Anfield career and despite getting a debut goal against Maccabi Haifa in a Champions League qualifier, he found it difficult to break his Premier League duck for the reds. Eventually he struck against his former employers Blackburn and finally he managed to find some consistency in front of goal before dramatically shooting himself in the foot.

Whilst in the Algarve for a training camp in the build up to a crucial Champions League tie against Catalan giants Barcelona, Bellamy had a pull apart brawl with team mate John Arne Riise when the Norwegian opted to keep his self respect by refusing to sing a Robbie Williams karaoke duet with the sheep fancier. Bellamy, irate at this snub, would later track down and confront the flame headed left back, swinging at him with a golf club.

Both players were reprimanded and fined for the fracas, but remarkably, at the Nou Camp, Bellamy scored an equalising goal complete with golf themed celebration before setting up none other than John Arne Riise for the winning goal. However, it was to be Bellers' last goal for the club, the writing was on the wall and Rafa had obviously seen enough.

It was a meager return of 9 goals in 41 appearances, but a disgruntled Bellamy seemed to consider himself blameless. There were rumours abound that the disgruntled centre forward and Benitez had dressing room bust-ups over how he was used infrequently and played out of position, accusations that Craig-O hotly denied when in the build up to a match with Chelsea, he claimed that talk of rows with Rafa were nonsense, because he admired the Spaniard and wished to emulate him should he ever take up coaching. He went on to declare his "100% loyalty to Liverpool" on the clubs official website.

Bellamy's brand of loyalty was displayed when he joined West Ham that summer for £7.5 million, especially since he maintained that it was his decision to quit Anfield, saying "the opportunity to be a senior figure at an ambitious club like West Ham is very attractive. It was important for me to start playing regular football." The schizophrenic hitman added "I could sit at Liverpool as a squad player all day long, picking up my money, playing every now and then, but I'd be cheating myself and my personality." He even cited notorious mercenary Lucas Neill, who snubbed Liverpool for a bumper pay day at West Ham in his somewhat shaky case for the defense.

Bellamy's career at Upton Park got off to a flying start, when following the opening day defeat against Man City, he fired a broadside at Alan Curbishley. Nothing like making a good first impression. He didn't have much time to feud with Curbs after that as injuries restricted him to just 8 league appearances in which he scored 2 goals.

Even in his efforts to be humanitarian and philanthropic, things back-fire. With his own cash, Bellamy set up the imaginatively titled Craig Bellamy Foundation in war-torn Sierra Leone, a football academy for disadvantaged children. Very laudable, but a black mark was put on his efforts following reports in The Sun last summer that Bellamy had assaulted a charity worker in a casino in the nations capital Freetown, a story that Bellamy is in the midst of suing the newspaper over.

We finally get to this season and over a year after becoming the Hammers' record signing, Bellamy has a short hot streak in front of goal, bagging 5 goals in 13 league outings. West Ham's financial turmoil sparked rumours that they would be willing to sell the front man in the window and Bellamy thought he'd play a clever game when at Christmas he told TalkSport that he wanted to stay at Upton Park and repay the Hammers after spending so long in the stands, but that should the club wish to sell him, he would consider a move.

However, as it transpired, they didn't wish to sell him and so he had to make his intentions to depart for another pay day clear by forcing the issue and walking out on a training session after Zola had refused him permission to speak to Tottenham.

So, despite Spurs apparently being his first choice destination, moneybags Man City pushed through a £14 million pound move and Bellamy was quick to sing from his regular hymn sheet when he extolled the virtues of his new club saying "there are so many things happening here that are out of this world, for me to be part of it was an offer that I could not walk away from."

Well, my guess is that he will do exactly that. He may well do a job in the next few months and bang in the odd goal, but come the summer, the real money will be spent and the Arab investors will expect a raft of marquee signings - and marquee signings are generally offensive players (as opposed to just plain offensive). Bellamy will then be left on the sidelines and inevitably complain and soon head elsewhere, no doubt enthusiastically proclaiming the next club he joins as the perfect move for him. £14 million pounds for an injury prone, controversy laden, antagonistic feather ruffler whose goal ratio is average at best is an obscene amount and if Man City truly have aspirations to become mighty, then they'll need to produce bigger transfer coups than this in order to achieve their lofty aims.