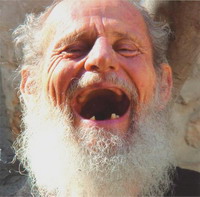 I have a friend, believe it or not, and we love nothing better than to mock footballers, waiting for them outside their houses at night, one of us with a torch, the other with a bucket of cold water.
Sometimes we even make it inside, and after quickly rustling together all of their most prized positions, we hide under their bed and jump out shouting "boo" just as they've convinced that night's bit of crumpet that there's really no need to waste the durex.
At other times, when time is tight or we can't get past the security guards, we take to laughing at their names, and over the years we've come to find that the ripest time for such mockery is inevitably the transfer window. Just look at this selection of laughable names from the 2008 end-of-season window: Luke Waterfall; John Pantsil; Bobby Barr; Gary Twigg; Ricky Shakes.
Ricky shakes what, I ask you?
Still, like all things the standards have dropped over time. I remember the glorious January of 2007, when I literally cried myself to sleep every night, laughing at Kevin Moon, Joe Keith (two first names…it's ridiculous!!), Leon Crooks, Tyrone Berry, Luton Shelton, Hogan Ephraim, Rory Prendergast, Rossi Jarvis and Jamie Mole. 
Yet this window's crop has raised little more than a smirk.
Craig Nelthorpe, Fraser Forrest, Jamie Mole (again), Nathaniel Wedderburn, Marlon Patterson, Marlon Broomes, Harry Hogarth, Guy Butters, Lee Cox and Troy Archibald-Henville have all tried their hardest, but they're not in line for any Perrier awards any time soon. 
So if you're a manager, think of your players and then think of me and my friend. If you have any players with somewhat amusing names, sell them, please, or at least send them out on loan. Otherwise, we'll be round their place on February 1st waiting for the bed to start creaking.