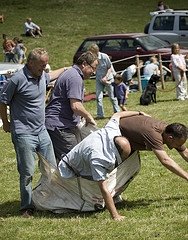 A brutal day in Premiership history as two more managers are slain, ruthlessly deposed from their thrones after only brief reigns. Firstly, the Pompey hierarchy opted to predictably drop the dead (weight) donkey, then somewhat more sensationally, 'Big' Phil Scolari was (Brazilian) w-axed.  
The first casualty was by far the least surprising. That is of course, unless you are as gormless as the pink slip recipient Tony Adams, who stated "I am a little bit surprised but results haven't been good".
Ah, well, it's a results based business my equine friend and 4 wins from 22 in all competitions, with 2 wins out of 16 in the league just wasn't good enough. Being musical, I love to blow my own trumpet and on 24th November, not long after Adam's appointment, I wrote the following: 
"I think Portsmouth will struggle and don't think Tony Adams is up to the task. As commendable as it is that Adams has turned his life around and overcome his alcohol addiction, I feel that this new intelligent, thoughtful persona he tries to project is all a bit false.... he can try and come across as intellectual as he likes, but to me he just seems to be a rather smug, pious individual who I don't think has the nous for management." 
Not the boldest prediction I'll ever make given his woeful track record with Wycombe. Really given that it was frankly quite obvious that Adams was going to be in over his head, especially with the difficult financial circumstances he was going to have to deal with, Gaydamak & Storrie need to look at themselves for resorting to what was effectively the cheap and easy option. 
The losses of Defoe and Diarra shouldn't be understated. However, Adams has to take the fair share of the blame for presiding over the club's drop from a comfortable 7th to their current perilous 16th. The man was a very solid centre back as a player, yet under his guidance a once proud defensive unit has become shambolic. 
Soon after taking the job, Adams famously said "I don't actually like people. I'm a loner and if I had my way I'd just walk my dogs every day, never talk to anyone and then die." Er, nice one Tone. A guy as insular and socially troubled as this is hardly the right man to communicate his ideas to a team or the right person to motivate and inspire a squad of professionals.
Despite the usual spiel about coming back better and stronger, I can't see Adam's getting any more management roles, coaching maybe, but not a top spot. Hopefully he'll follow his dreams and bugger off to that remote canine stomping ground he craves and trade snarls with fellow enthusiast Roy Keane. 
To follow the articles opening monarch analogy, the second regicide of the day occurred at Stamford Bridge and was quite the shock, with the head of Luiz Felipe Scolari being the one to roll. Things hadn't been going quite so smoothly for the affable Brazilian in the last month or so, but this still seems like a pretty hasty decision, a knee-jerk reaction to the air of discontent that pervaded Stamford Bridge following the 0-0 with Hull at the weekend, where disgruntled fans sung "you don't know what you're doing" and unfurled 'Scolari Out' banners.
Chelsea do have a lot of problems, as highlighted in my last article, but the majority of those were inherited by Scolari and not of his creation. The Blues had a manager with a world class reputation, who said himself that he understood and accepted the financial limitations imposed upon him.  
Yet they have opted to dispense with his services. It had all started so well and it seemed that 'Big' Phil was going to be able to follow Abramovich's ideal philosophy of producing results, playing with flair and attracting big name signings ; a combination of standards that even Jose Mourinho failed to achieve in the eyes of the Russian owner. 
Poor results against the other 'Big 4' members and recent lacklustre displays have put Scolari under threat, but I really thought that his performance was going to be judged and reviewed in the summer. It seems odd timing to let him bring in a new player, allow the transfer window to elapse, then boot him out.
Whereas Adams had to go (again, sooner, so that a new man would've had a chance to bring in his own men in January) I feel that Scolari could've been a success at the Bridge given time. Had he been given the opportunity to re-vamp the squad, then things could've been different. Also, the man has won the Copa Libertadores twice and the World Cup – who is to say he wouldn't have done something similar to Benitez in his first season when he underperformed in the Premiership (finishing 5th) yet won the Champions League ? 
However, I have to say that when he first joined, he cited the financial security that the offer would give his family as one of the major factors in taking the job. Fair enough, but before he came to these shores he had this fearsome reputation as an aggressive ball busting coach whereas since his arrival his demeanour has been unexpectedly calm and reserved – a sign of malaise and indifference now that he was monetarily secure? 
Your thoughts on the firings of Adams and Scolari would be most welcome. Would you have sacked them? Or given them more time? 
Now, the interest lies in seeing just who will be appointed. Candidates for the Pompey position include Avram Grant, Alan Curbishley, Joe Jordan, Slaven Bilic, Sven Goran Eriksson and Gus Poyet with the likes of Kevin Keegan, Glenn Hoddle, Steve McLaren and Terry Venables much further back in the running. Meanwhile, amongst those linked with the Chelsea hot-seat are Guus Hiddink, Grant again, Roberto Mancini, Frank Rijkaard, Gianfranco Zola, Roberto Di Matteo, Sven again and Didier Deschamps, with the spectre of Mourinho looming behind them all. 
Reports suggest that both clubs will go for someone unattached, which makes sense given their respective current desire for financial prudence coupled with the fact that they'll both be baulking at the compensation they're already going to have to shell out to the previous incumbents. 
As regards Portsmouth, I see the two favourites being the only realistic contenders from those touted. If Curbishley is free from the legal wrangling involving his case for constructive dismissal against West Ham then I think he'll take it. Otherwise, Grant, especially having worked at Pompey before, seems a good fit. 
Chelsea is harder to call. I think the odds on shout of Guus Hiddink is way off the mark, that appointment would make Abramovich very unpopular back home and I can't see it.  Grant was burnt once before so he seems unlikely. Mancini & Rijkaard may wait for a more favourable opportunity, the timing isn't ideal and there isn't a guarantee of any money to spend in the foreseeable future. Roman's had a bit of a lusting for Sven for many a year, so if the Mexican Federation can be paid off relatively cheaply, then he'd be my guess. If he proves too pricey, then I'll plump for Deschamps.
The fans seem to be thirsting for a former player if the pro-Zola/Di Matteo banners  seen at the Bridge are indicative of the general consensus, so Deschamps fits that bill whilst also being a free agent. He took Monaco to the Champions League Final in 2004, Mourinho pipping him to the cup and the Chelsea job at the time. More recently, he took Juventus back up to Serie A before resigning. 
Once again, I would be interested to hear your opinions. Who do you predict will get the jobs? Who do you want to get them? 
Finally, who will be next in the Sack Race? Will Steve Gibson's seemingly limitless patience with Gareth Schnoz-gate run out? Will the new owners at Eastland's look to bring in their own man…. a Brazilian currently based in England, with a proven track record and the ability to pacify and control the likes of Robinho perhaps?