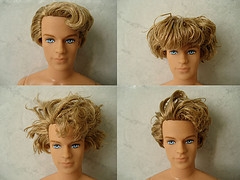 There was only one game in Portugal this weekend as Porto took on Benfica in front of a massive 50,110.
The Dragons and the Eagles began the match as the top two in the league and finished it as the top two, although Benfica will feel they were robbed of first place by one of the worst refereeing decisions of the season. 
Porto 1 -1 Benfica
Benfica were lucky to be leading 0-1 at half-time but had slowly asserted some dominance in the second half. However on 71 minutes, with Porto looking unlikely to score any time soon, the ref decided that Yebda had an invisible leg that he had used to trip Lisandro Lopez on the edge of the box.
The absolute shoddiness of the decision was only amplified by the referee's position, about seven yards from the action in full view of both players' legs. In other words, in the perfect position to see what everyone else in the country could see - Lisandro diving after absolutely no contact was made.
Lucho Gonzalez duly stepped up and put the penalty straight down the middle to send the Porto fans potty. The noise must have been deafening inside the ground, considering 35,000 of the people in there normally jump up at down at home or in a café - the big-game-only glory-hunting bastards.
Benfica's goal came through old invisible legs himself, Yebda. It happened just as Quique Flores had laid out the half-time oranges when invisible legs used his neon locks to connect with Reyes' only decent cross of the game.
Porto keeper Helton will be very disappointed with it as it was fired straight at him, but it was a fairly strong header so Yebda deserves some credit for it, if not for his haircut.
The first half presented Porto with a whole host of chances, the most golden of which fell to Lucho as he headed over from a Meireles cross after springing the offside trap way too easily.
While possession was pretty evenly shared Porto looked much more coherent, particularly in the final third with Fucile darting down the right and the impressive Cissokho making lots of good runs from left-back
Meanwhile, Benfica had only really managed to scuff it about or get corners. The highlight prior to the goal was a sky high shot from Yebda that was almost as poor as his haircut. But then to hit a shot as poor as his haircut you'd have to spoon it into your own face, breaking all your teeth before watching it dribble all the way back into your own goal to provide your bitter local rivals with an equaliser as the final seconds of the clock tick down on the final day of the season in a game you had to win to avoid relegation.
Sorry, but I just can't get over how poor his haircut is.
The second half saw Suazo do nothing to disprove the idea that he's waged a bet with Sporting's Helder Postiga that he can be the crappest striker of the season, if not ever. He was withdrawn on 62 for Di Maria, who looked half-decent, if not a bit like a crazed dog chasing a ball round and round with no final destination in mind.
His admirers, and there are many, would probably like me to point out that his arrival saw Benfica become the dominant side, although this may have been more down to Jesualdo Ferreria being forced to withdraw Meireles before he got himself sent off.
Having already booted the post when a chance went begging and nearly ripping the ref's head off after Katsouranis had the impudence to challenge him for the ball, the midfield hard man was wisely subbed for Mariano, who looked pretty useless in his 25 minutes on the park. He chased up the rebound from a Hulk shot on 78, but if Moreira manages to outfox you, you know it's not going to be your day.
Benfica looked like they could threaten Porto for the title, but they really lack strength in depth, as was illustrated by the 86th minute substitution of Reyes for the over-the-hill Nuno Gomes.To be honest, their first team is hardly top drawer, but then that's never going to stop you winning the league in Portugal. Aimar is far from a match-winner, while Reyes never ceases to amaze me with his misfiring, lackluster performances.
Senhor José Antonio just looks so uncomfortable out there. Maybe it's the Benfica shirt, like how Robbie Keane never looked quite at home in a Liverpool shirt. The white of Spurs really suits Keane a lot better, and Reyes would probably look a lot better in a blue apron with a name badge and a burger in his hand.
Fair result? Probably not. Much as it pains me to say it Benfica probably just deserved a win here, and not only because of the dreadful penalty decision. They controlled the second half, if never really threatening to score, while Porto showed little of the quality that has made them title favourites so far this season.
The rest
There were a few other games actually, most notably Sporting's 2-3 defeat to Braga, which leaves Bento's side well off the pace.
Veloso came on for the second half but did nothing to bolster a side weaker than a can of Tesco Value Lager as Sporting gifted Braga three goals in 26 second-half minutes. Indescribably sloppy defending allowed Meyong Zé added to his burgeoning tally for the season, before Renteria and Mossoró got their names on the score sheet.
The only good thing for Sporting was Derlei, who continued his resurgence with a well-taken half-volley. Pity for them that there are only 13 more league games before the Brazilian retires.
Izmailov scored another cracker in the 92nd minute which should help him to escape the sinking ship that is the Liga Sagres come the end of the season. It wasn't enough to rescue Sporting on Sunday night though, and they now find themselves floundering in fourth place.
Bemusingly, Paulo Bento's managerial skills are apparently attracting interest from Atletico Mardid. Atletico's general manager Miguel Angel Gil Marin had half of the following statement to say about the matter: "I know Paulo Bento well. He had a very interesting career here in Spain, but is making a total ass of himself as manager of Sporting, so why on earth should I be interested in him managing Atletico, eh, eh?"
Elsewhere Leixões managed to score their first goals of the year as they beat Trofense 2-0 to propel themselves into third.
Naval fell victim to my tip for the UEFA cup, Nacional, losing 0-4 at home. There were two more for Néné, who now has 12 for the season and will surely be the subject of bids from at least one of the big three come the end of the season.
Guimarães continued their futile attempts to repeat last year's third place finish by beating Marítimo 2-1. Guimarães'Serginho is a rarity among keepers in that he celebrates every save as if it he has just scored a goal.
Now just imagine if every keeper did that. Just imagine if every time Shay Given made a stop he ripped off his jersey and ran the length of the pitch swinging it round his cube-shaped head. Wouldn't football be a better game?
Rio Ave won their first game for two months, but remain bottom. A bizarre and totally false stipulation in Liga Sagres legislation means that Académica's 1-0 defeat will see the entire squad doing the washing up for the next week at Rio Ave's training ground.
There was only one 0-0 this week and it came courtesy of Amadora and Setúbal. Need I say more?
And finally, Paços Ferreira and Belenenses used their game to show how equally poor both of them are, drawing 1-1.
The top
Porto – 35
Benfica – 34
Leixões – 31
Sporting – 31
Braga - 29