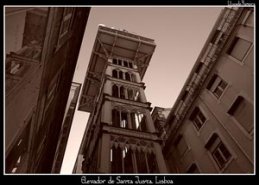 The body of Ian Shine was this morning found at the bottom of Lisbon's Elevador de Santa Justa. A note stuffed into his jacket pocket said that he had been driven to throw himself off the 32 metre tower because of 'weekly exposure to the shabbiness of Portuguese football'. 
The note went on to say: 'I can't stand these depths of despair anymore. For weeks I have been surviving on the knowledge that at least Hélder Postiga was having a worse time of Portuguese football than me. However, his goal and assist on Saturday left me with no way of consoling myself, and his celebrations at the end of the match, as if he were the saviour of the world, just threw me over the edge.'  
Shine's diaries were later found in his flat. The entries for his final days are published below. 
Friday 13th
Nacional went up to third as they offered nothing but support for my comment last week that they're a very good bet for a UEFA Cup berth. If only I could climb the table of my emotions and stop thinking about relegating myself to the grave. 
The islanders are spearheaded by the league's most prolific stiker, Néné, who made it four in two games and 14 for the season as he put two past Guimarães in three minutes before Ruben Micael added a third. 
How can it be just that a player of true quality like Néné is forced to hack out a living at a virtually unknown club on a small island while talentless clowns like Postiga and Suazo are allowed to live in a capital city playing for clubs who get into European competitions? 
Saturday 14th
Dragged myself out of bed at 4pm to watch Marítimo beat Amadora 1-0 courtesy of a lovely Ytalo volley, but the result would have been 7-0 if there were any justice in the world. Amadora look incapable of holding on to a ball of any description for over three seconds. 
After dashing down a bottle of Jack Daniels I found the strength to change the TV channel for Braga against Leixões. Most of the game was a blur of throw-ins and vomiting until an 80th minute own goal maintained Leixões' champions league push. When a defender can score one of the goals of the season with a diving header past his own keeper, you know there is something wrong with the world. 
There's no rest for the wicked, and I flick the channel again to watch Sporting attempt to put last week's loss at home to Braga behind them. Derlei maintained his place in the starting line up, while Veloso regained his place but found himself playing left back in another expression of tactical ineptitude by the simian Paulo Bento. 
The Belenenses boys really roughed Sporting up in the first half, and Rochemback even sustained a hefty headwound. Still, the half ended 0-0 with little to stir me from my depression.Marcelo's goal from an offside position early in the second half put Sporting behind and served to further highlight just how god-awful the standard of refereeing is in this league. Why doesn't it try having professional refs like any other self-respecting league? 
With the clock ticking down Bento threw on Postiga, which brought a smile to my face. His inadequate performance is sure to cheer me up, I thought, but within three minutes he had set up Vukčević and then scored what one could almost call an exquisite chip, if it hadn't come off the end of his boot. 
I just can't comprehend this shift in the stars. How can Postiga have done something close to impressive? 
Sunday 15th
Was there any point in getting up today?  
Trofense drew 2-2 with Naval in a game which 2441 people went to but only 17 cared about. 
Porto then played Rio Ave in a game whose outcome was as inevitable as the passing of the seconds and the nailing of the coffin lid over my rotting head. 
What was also inevitable was a wealth of incorrect refereeing decisions. Porto had two perfectly legitimate goals ruled out as the first was adjudged not to have crossed the line and the second was deemed offside as the linesman seemed to think that one Porto player had left his kit at home and been forced to wear the green and white shirt kicking around the lost property cupboard. 
Porto still won 3-1 though, with Lucho scoring from the spot and Farías adding a late header and a tap in from four yards. 
However it was Rio Ave's Fábio Coentrão who scored the goal of the game, a bender into the top corner from the edge of the box. If only teams got a point for every goal they scored…Rio Ave would still be in the relegation zone. 
I wonder what crimes I must have committed in a previous life to have to follow these two games with the Benfica match. 
The yellow shirts of Paços de Ferreira sent me into a seizure for most of the first half. When I returned to my senses I was able to make out that the score was still 0-0 and to surmise from the glazed looks on the fans' faces that I'd missed absolutely bugger all. 
The second half seemed worth staying conscious for as Benfica looked like condeding, with David Luiz clearing off the line as the Eagles' defence fell apart like my own expectations of life. 
Things soon got worse as Cardozo scored but had it ruled offside, then scored and didn't have it ruled offside. Ruben Amorim added a second shortly after from the edge of the box to give Benfica a two-goal lead they far from deserved. 
The yellow peril found the net courtesy of some trademark Benfica defending as Ferreira scored for a club that is apparently not his biological father but shares his surname all the same. 
Di Maria then scored a ridiculous left-footed half volley from 35 yards to add some more hay to the hype wagon that is quickly speeding out of Lisbon with his name plastered all over the side of it like some cheap, flimsy Formula 1 car that will never stand the test of time. 
The Argentinian got booked for removing his shirt in celebration, and the flash of yellow set the pulses of Paços racing as they took it as a sign from the referee that he wanted them to score, which they promptly did. It finished 3-2…32 is the height of the Elevador de Santa Justa in metres. 
Monday 16th
A first win in almost three months for Setúbal as they beat Académica 2-1.With Rio Ave, Trofense, Belenenses and Paços de Ferreira all looking about as potent as a 75-year old eunuch after a night on the tiles Setúbal might even avoid the drop, something that I am unable to do. Goodbye cruel world… 
The top
Porto – 38
Benfica – 37
Leixões – 34
Sporting – 34
Nacional - 32