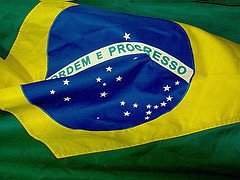 Sunday's Milan derby saw the confirmation of what we have known for the past four months: Inter will win Serie A at a canter. The chase for the fourth Champions League spot and the battle against relegation are now the only ports of call for the thrill seeking observer. 
Having dominated proceedings, Juventus should have beaten Fiorentina, but could only manage a draw. So, following the  2-1 win over their city rivals, Inter now have a nine point lead at the top of the table. 
The derby was a frenetic and engaging affair, largely thanks to a trio of Brazilians – and a certain buck-toothed one in particular.   
Although on the losing side, Ronaldinho was magical at times showing the kind of form that made him comprehensively the best player in the world two years ago. 
On his day the Brazilian is unplayable. And at his it is best difficult to deny him a place amongst the all time greats. In terms of talent and the ability to do what others can't even conceive of, he's up there with Maradona. Dare I say it, a notch ahead of the Zidane category. 
On Sunday evening his vision, distribution and finesse set him apart from the rest of the all star cast. The perfection with which he played a through ball for Pato withthe outside of his boot and later arced a ball over the Inter defense for Clarence Seedorf, goes beyond well beyond what even the best players can imagine, let alone perform to perfection. 
Unfortunately for Ronaldinho, and football as a whole, having won every major honour there is (league titles, domestic cups, the Champions League, the World Cup, the Copa America, the Golden Boot, and the World Player of the Year) by the age of 26, there was little left to motivate him. As such, glimpses of his best are now all too infrequent. 
Inter Milan's Adriano is another player whose form tapered out after a hugely promising start; but in his case it all seemed to fall apart before it had ever really started. 
When the burly Brazilian broke onto the scene at Parma he was a phenomenon. With searing pace, imposing stature and the technical ability akin to his countrymen, he was seen as the most complete striker of modern times. 
As it turned out Adriano was to be beset by a number of problems. Although physically capable his mental strength paled in comparison. The striker's inability to handle life in the limelight and the pressure of a career as a professional footballer has driven him to alcoholism and bouts of binge eating. Coupled with a penchant for the fairer sex, his performances have suffered markedly. 
Although Jose Mourinho has struggled to deal with him – he was supposedly on the transfer list in January – the Portuguese coach has undoubtedly seen Adriano's capability, if harnessed correctly.  
On Sunday he showed what he was capable of as Inter's comparatively direct approach saw them getting balls forward to both himself and Ibrahimovic, with Stankovic and Muntari and feeding off of them. 
Adriano performed the role impeccably and was also dangerous whenever he had the ball at his feet. His goal was dubious as he appeared to handle the ball into the net, but that should take nothing away from an excellent all-round performance.  
The third Brazilian of the piece was the youthful Alexandre Pato. A fresh-face in amongst a Milan team who are mostly old enough to be his father.  
The 19-year-old will be hoping to avoid the pitfalls of the Brazilian phenoms who have come before him, and if he continues to develop as he has done so far there is every chance of him becoming a world-class player. 
It was his goal in the 71st minute that dragged Milan back into the tie, but for all their patient and measured build up, and a couple of close offside calls against Fillipo Inzaghi, they were unable to level the scores.  
So where do we now look for excitement in Serie A? Well, as seems to be the case these days, the race for fourth spot is a major competition in itself – a lucrative goal that has taken primacy over domestic cup competitions. 
With Roma's good form coming to an abrupt end in a 3-0 defeat at the hands of Atalanta, it was left to Genoa and Fiorentina, 3rd and 4th respectively, to restate Champions League credentials. As it turns out it was as good a game as you're ever likely to see.  
Genoa went ahead in the 12th minute, with former Barcelona man Thiago Motta beating Sebastien Frey from inside the area after a wonderful one-two with Diego Milito.  
However, a spanner seemed to be thrown in Genoa's works when Giuseppe Biava was given his marching orders for a second yellow card 10 minutes later. 
Despite their numerical disadvantage it was Genoa who extended their lead thanks to Raffaele Palladino tapping home after some neat build-up play in the 38th minute.  
Half-time came and went and Fiorentina were still unable to make any inroads. It got worse before it better when Alessandro Gamberini's very late challenge on Domenico Criscito allowed Milito to convert a penalty, putting Genoa 3-0 up with 10 men and 30 minutes to go.  
It was at this point, however, that the proverbial worm turned. Fiorentina were awarded a penalty when Gilardino was tripped as he pounced upon a loose ball. Mutu stepped up to send Rubinho the wrong way and make it 3-1  
With 10 minutes to go Fiorentina brought it back to within one goal. It was Mutu again who struck a searing free-kick which ricocheted off the wall, then the keeper, then the corss-bar and then into the net.
That set up thrilling finale with Genoa enduring some real backs to the wall stuff trying to keep Fiorentina at bay and hold onto the three points.  
In very last minute of injury time, just when it seemed Genoa were ready to celebrate a crucial victory, Mutu sealed the comeback as he fired the ball in with a clinical shot following a goalmouth scramble. 3-3 it finished.  
Elsewhere, there was little else of note. Five of the remaining six games finished in draws, mostly ending with a 1-1 scorline.  
Results: Lazio 1-1 Torino; Napoli 1– Bologna; Verona 1–1 Catania; Genoa 3–3 Fiorentina; Cagliari 2–0 Lecce; Reggina 0–0 Palermo; Bergamo 3–0 Roma; Juventus 1–1 Sampdoria; Siena 1–1 Udinese; Internazionale 2–1 Milan.