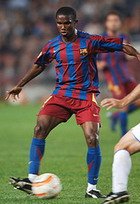 According to the Italian sports newspaper La Gazzetta dello Sport, if David Beckham manages to get his much vaunted long-term transfer to Italian giants AC Milan there is every chance he will be pinging pinpoint crosses onto the forehead of a certain Samuel Eto'o.
 

The Italian paper claims that Eto'o's agent has had a series of preliminary talks with the club about a move to Milan in the summer. Rumours which wouldn't hold so much weight were it not for Eto'o's recent comments in the French magazine Sportweek.
When asked whether he would be staying at Barca, Eto'o rather cryptically replied that he had "Made a decision but cant say anything at the moment"; that last summer he "Wasn't exactly welcome at the club because certain people didn't believe in me"; and perhaps most tellingly that he "Didn't like players who kiss the club badge after scoring, as afterwards they wouldn't hesitate to change clubs if they were offered a couple of million more". 
 

One things for certain: with 23 goals to his name already this season, Milan certainly wont be the only interested party. 
If you speak Spanish read this story here.