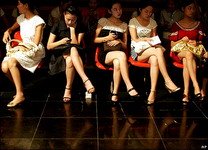 I wasn't surprised to see Aston Villa lose 1-0 to Chelsea yesterday. I had a feeling that Hiddink would provide them with a bit of fresh impetus, and we've had a tough week. I'm sure people will go overboard and say that this is the beginning of the end for the Villains, that they're overrated and not top 4 material. Let the Villa bashing commence, come on, I can take it. 
Chelsea completely controlled the first half - probably their best performance since they beat us earlier in the season. Villa came back into it second half and I'm sure you'll be climbing over yourselves to rip off my rose tinted spectacles, but I thought we were worth a point. Chelsea held on though and it seems that they save their best displays for us, rather like my 90minutes colleague Darren "Smuggler" Douglas keeping his pool 'A' game for when he takes me on.  
Talking of the Smuggler, he was present at the Emirates to see toothless Arsenal fail to take much of a bite into the buffer zone between the Gunners and the top 4. I'm sure he will provide an "in-depth match report...with no bias". Arsenal only drawing at home to Sunderland certainly softened the blow for me regarding Villa's Champions League aspirations. 
Liverpool have just drawn at home again, 1-1 with Man City. Reportedly, Benitez has snubbed another new contract - but with each disappointing result, Reds fans seem to care less and less. If you're a Liverpool fan, let me know what you think. Really, they have all but conceded the title to Man Utd which is rather boring. Still, at least the bottom of the Premiership remains tighter than a nun's chuff, which keeps the relegation issues interesting. 
I'm watching Newcastle vs Everton as I write this. Kevin Nolan has just been red carded for a disgusting 2 footed lunge on Victor Anichebe. It should be known that the referee's decision was initially met by disbelief and skepticism from commentator Andy Gray, who speedily back tracked when he saw the slow motion replays. Ref's in this country aren't the best, but they do a difficult job and I hope the high and mighty Gray won't be so quick to lambast every tiny error on platforms such as his 'last word' programme, because he's just proved that it isn't always easy to spot things in real time. 
More needless tinkering from FIFA, as Sepp Blatter looks set to announce proposals next week suggesting extending half time by a further 5 minutes. Surely this has no practical sporting application? It seems like a cynical way of trying to make more money from TV revenue. I know it's the credit crunch and all, but surely FIFA aren't that hard up. 
FIFA may be alright, but a lot of people are being hit hard by the world recession. Poor old Blue Square Premier side Weymouth haven't been able to pay their players in 2009 and following a first team squad strike, were forced to field their youth team in their home game against Rushden & Diamonds. The hapless youngsters were unfortunately thumped 9-0.  
It could be worse, though. Someone else feeling the global pinch is Chinese businessman Mr.Fan who, under financial strain, had to trim his squad of five mistresses down to one. Things went somewhat askew when one jilted lover attempted to kill everyone involved, only to succeed in killing herself. Subsequently, all the mistresses and the wife walked out on poor Mr.Fan.