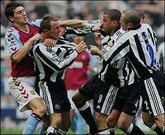 FA Cup third round, Deepdale and the chant of "Steve Gerrard Gerrard, he scores them from 40 yards, he's big and his fookin 'ard, Steve Gerrard Gerrard" greeted the disgraced captain as he appeared for the first time since his arrest for attacking a DJ. The Liverpool fans, as well as manager Rafa Benitez, have definetly done a Dolly Parton since the Southport incident amid the public furor over another Premiership idol falling from grace and setting a bad example to legions of young fans.
Obviously I don't condone assault, but I can't help but feel that all the righteous hyperbole that surrounds such an episode is a bit much. I don't believe that kids are so impressionable that we'll see a swathe of DJ beatings across the nation, with cherubic youngsters with wobbling lips and a tear in their eye explaining to the police "but officer, Stevey G did it and I thought it was ok....".

The Gerrard debacle all seemed a bit tame compared to a story I saw recently about an NFL star with the unlikely name of Plaxico Burress. Burress, a Superbowl winner with the New York Giants managed to shoot himself in the leg in a Big Apple nightclub and could now face a jail term for unlawful posession of a firearm.

The likes of Barton, Bellamy, Bowyer and a slew of other Premiership stars over the years are often rightly castigated for their actions, but just how bad are they? The Burress story made me do some research to see if the yanks had some equivalent bad boys and as ever, everything in the US has to be bigger. I couldn't believe what I discovered, it seems woman beating and drug felonies are some kind of pre-requisite for playing in the NFL. This cast of characters makes the likes of Joey Barton look like a choirboy.

The NFL Bad Boy starting eleven
OJ Simpson - Well, you can't get much badder can you? Non-American readers can be forgiven for thinking that old Orenthal James was only famous for his role as the crappy sidekick to Leslie Nielsen in the Naked Gun films, but Simpson rose to prominence as a top NFL player for the Buffalo Bills during the 70's. Somehow acquitted of the double murder of his wife Nicole and her friend Ronald Goldman in 1995, OJ would go on to write a book describing the incident with the title "If I did It". After sensationally escaping a double murder rap, you'd think he would keep his nose clean, but in September 2007, "The Juice" and some of his associates broke into a Las Vegas hotel room and stole sports memorabilia at gun point. He was charged with several offences including kidnapping & armed robbery and has been sent down for 15 years.

Michael Vick - This Atlanta Falcon caused a huge stir in the animal loving US during 2007 when it was discovered that he had been running a six-year interstate dog fighting venture under the title "Bad Newz Kennels" and was subsequently sentenced to 23 months imprisonment.

Pacman Jones - The quintessential NFL bad boy, Jones had numerous scrapes with the law before an altercation with a stripper in a Vegas nightclub in February 2007 led to a fracas that resulted in a member of his entourage firing a gun and hitting three people. For his part in this calamity, Jones was suspended for the entire 2007 season. More recently, Pacman scuffled with a man that his new team the Dallas Cowboys hired as a bodyguard to keep Jones from getting involved in any strife and he has landed himself another suspension.

Lawrence Phillips - A notorious woman beater who has duffed in several girlfriends as well as doing a Marlon King in a nightclub during his stint with the Miami Dolphins. In 2005, classy Phillips ploughed into three teenagers with a car after a dispute and has been sentenced to 10 years in the slammer.

Barret Robbins - The bi-polar Oakland Raider went on a drinking binge and failed to appear for his team's Superbowl match against Tampa Bay. He was later released by the Raiders following steroid allegations. In January 2005, Robbins was shot three times during a brawl with police in Miami, yet he is alleged to have scuffled on despite his wounds. Currently wanted for parole violation in Florida, the manically depressed star has gone MIA.

Ray Lewis - Still playing for the Baltimore Ravens, Lewis was arrested for murder in January 2000 following a double stabbing at a Superbowl party. The murder charge was eventually replaced by an obstruction of justice charge, but for his part in the incident, Lewis would go on to make undisclosed settlements with the victims families before civil proceedings were brought.

Lawrence Taylor - A former New York Giant and NFL hall of famer, this legend of the game was a complete drug fiend. Early in his career, he tested positive for cocaine twice, so proceeded to submit his teammates urine to avoid further punishment. As his time in the sport came to an end, he upped the ante, getting arrested and going through spells in rehab, covering the windows of his home in white sheets and describing the atmosphere as being "like a crackhouse." His whoring exploits include sending hookers to the rooms of rival players to knacker them out and turning up for a team meeting still wearing handcuffs that he no longer had the keys to.

Alonzo Spellman - This unhinged star, a former Chicago Bear, has a rap sheet that includes arrests for breaking into the home of his brother and threatening to kill him as well as forcing the emergency landing of a plane after terrorising the passengers onboard.

Gene Atkins - Another reasonable chap, he has been arrested for firebombing the house of a business associate and more recently scuffled with police and barricaded himself in his home after clubbing his wife with a remote control.

James Dunaway - Coincidentally a former colleague of OJ, Dunaway is the white version of Simpson. In 1998 his ex-wife was found dead in a swimming pool and seeing as she had won a sizable amount of the NFL star's assets in a recent divorce, Dunaway was arrested and charged with her murder - but not indicted by a grand jury. Despite this, his own children filed a wrongful death lawsuit against him and won.

Rae Carruth - A wide receiver for the Carolina Panthers and the most evil shamed NFL player of the lot, this scumbag was found guilty of organising the execution style murder of his pregnant girlfriend following a date, because she refused to have an abortion.