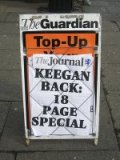 Like the North Sea gales that batter freighters, factories and council flats in the city, the winds of change are once again blowing on Tyneside. After 9 months in charge the Messiah has abandoned his disciples: Kevin Keegan has, for the second time, resigned as Newcastle manager.
Problems have stemmed from the deteriorating relationship between Keegan and boardroom duo of Chairman Mike Ashley and Sporting Director Dennis Wise. More Hale and Pace than Laurel and Hardy the plucky pair combined to completely balls up the transfer deadline signing only Xisco (?) and Ignacio Gonzalez (??). Rumours that little henchman Wise had been hawking Michael Owen and Joey Barton (a player with a charge sheet not too dissimilar to that of Wise) to potential buyers on deadline day were the final straw. The fact that Keegan was left completely unaware of all this meant that his position was untenable and his resignation inevitable.
It's unlikely Ashley will be able to continue his attempts at bonhomie in the stands any longer. Despite physically looking the part, wearing a football shirt and drinking lager amongst his charges, the billionaire from Buckinghamshire has struggled to be taken into the ample bosom of the St. James's park faithful. And now the slaying of the Messiah has certainly stoked their ire.
So starts the the search for the next manager. He who is brave enough to drink from the poison chalice. Having taken the lives of so many, including the regal bloodlines of the King/Messiah (twice) and Knight of the Realm Sir Bobby, which noble warrior is now willing to step forth to be unceremoniously sacrificed?