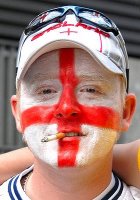 A typically pedestrian display by England against Andorra on Saturday and, barring some revolutionary zeal being instilled into the squad by Wednesday night, it's unlikely we can expect anything more against Croatia.
(English) People have been saying it until they are blue in the face: with the players at their disposal England should be doing better. Could part of the reason for their consistent underperformance be that much in the same way the nation has fallen out of love with the national team, the players have fallen out of love with the nation?
Jamie Carragher has been the first to admit that, in his small and simple mind, it's club before country. It's not unlikely that those sentiments are shared elsewhere in the Premier League. Least of all elsewhere on Anfield.
Hailed as some kind deity by the thieving masses, Steven Gerrard is a hero to one side of Liverpool. He's the heart and soul of a team that has won the Champion's League and he's the focus of the fans' adulation. When playing for England he's a shadow of his usual self. He's played out of position and is led by a captain it's difficult to imagine him liking.
At Chelsea Frank Lampard has scored 80 goals in 4 seasons; twice being voted player of the year the fans. When he pulls on the three lions his name is booed as the team-sheet is read out before kick off and jibes about his weight ring out around the stadium – emanating from his own fans.
David James, Stewart Downing, Glen Johnson and Emile Heskey are all the first name on the team-sheet at their respective clubs. When it comes to playing for England it's made common knowledge that the nation doesn't think they are good enough.
Fans, commentators, journalists, pundits and ex-players all have an opinion when England play and, quite justifiably, it's rarely positive. As the players pull on the three lions and look down at the solitary gold star on their chest, rather than pride, it's more likely they're feeling a huge burden of expectation, anxiety, frustration and possibly even anger.
The England squad is caught in a Catch-22 situation. Although you'd be hard pressed to imagine them getting any joy or satisfaction from it, they can't quit international football whilst in their prime. In spite of their apparent hatred, that would really stoke the fans' ire. Instead, like beaten wives, they are forced to go crawling back into the arms of their abusive lover. There's nowhere else for them to go. No safe house or refuge. Only the arms of a lover who does love them, but has a funny way of showing it.