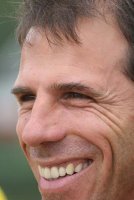 Gianfranco Zola's West Ham heaped more misery on the Toon with a display of attacking football that saw them brush aside a lackluster Newcastle side. Although the impish nice-guy has been at the club for less than 1 week a newfound attacking verve was palpable amongst Zola's charges.
It was another scurrying little Italian who provided the spark for West Ham. 32 year-old David Di Michele, on loan from Torino, scored two and set one up – taking his goal tally for the Hammers to more than one a game.
Newcastle's performance on the pitch mirrored their situation off it– they were confused and sold themselves short. The one bright spot was Michael Owen's incisive finish from outside the 18-yard box on the hour mark.
The two Chelsea old boys at the respective clubs go some way to telling the tale of the tape. West Ham have Zola, the little magician whose genius on the pitch and mild-manners off it ingratiated foreign players to the Premier League. Newcastle have Dennis Wise – a thuggish little brute whose malious violence has earned him criminal convictions.