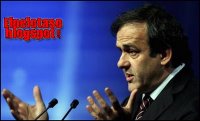 UEFA's President, Michele Platini, has launched a scathing attack on Arsene Wenger. Platini has claimed the Arsenal manager "Only cares about business"' and said he "Would be happy" if the Wenger's desire for the introduction of goal-line technology was never realised.
Power corrupts and absolute power corrupts absolutely. The hierarchies at the top of football's governing bodies only add credence to this mantra.
Since being unveiled as UEFA's president in 2006, Platini has often lamented the financial might of Premier League. His eggs are firmly in the basket of the Little Guy, without the Little Guy necessarily wanting them there.
In the interview given to France Football, Platini said, "The fact that Cluj beat Roma is very interesting, don't you think? This is the beauty of the game, where small teams beat big teams, something Wenger does not like because it is not a business approach."
Platini's sentiment may be seen by many as a worthy one; but, running his mouth off at Wenger is a misguided judgment.
Like him or not, Arsene Wenger has achieved incredible things at Arsenal. From a purist's point of view he has presided over some of the most innovative and expressive attacking football of the past decade, and moulded rough diamonds into some of the world's greatest players.
Accusing Wenger of not appreciating the beauty of the game is ridiculous. He may model his bullish leadership style on General Charles de Gaul, but Platini's fiery rhetoric reeks more of Jean-Marie Le Pen.