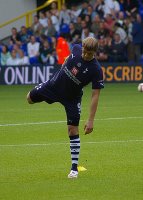 Having been berated - ironically by Juande Ramos - for not brushing up on his English, Tottenham new-boy Roman Pavlyuchenko has now revealed that training sessions are also proving bit much for him.
Pavlyuchenko told the Sun, "I trained like never in my life before, I swear! The weights started to get to me, and I stopped and said to the trainer, 'I can't do this'. That's how they work – I'm shocked. I thought it would be a lot easier."
Things aren't easy in his native Russia, but neither is it a particularly healthy place. In fact, Russia's health problems - stemming primarily from drug and alcohol abuse - are so bad that the population is actually in decline.
Even the Health Minister, Yurii Sevchenko, recently said, "Only about 20 percent of the [Russian] population is healthy."
Spurs fans can probably rest assured that Pavlyuchenko's fitness problems don't stem from sniffing glue; however, what he said later in the interview may be of more concern.
"The fans sing, yell, and stand up and applaud. They don't even need goals!" Regailed the excited Russian.
Not exactly what you want to hear from your new £13.8 million striker.