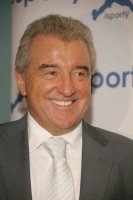 Terry Venables has been offered the Newcastle job on a short-term basis. It is understood that the former England manager is considering the offer and will make a decision later today.
A close friend of Dennis Wise, Venables has been asked to come in to bring some stability to the floundering club.
Barring mediocre punditry for Setanta Sports, the 64-year old been out of work since assisting Steve Maclaren's hapless Euro 2008 qualifying campaign with England.
In fact, you have to go back 12 years – to Euro96 - to sniff out Venables' previous successful managerial foray.
Since then the tanned Londoner has: 1. Failed to qualify Australia for the 1998 World Cup 2. Left an unsuccessful spell at Crystal Palace with them in administration 3. Been sacked by Leeds with the club in the relegation mire and on the financial precipice.
Coupled with his recent record in management and questionable financial probity, it remains to be seen whether a bronzed and bejeweled cockney wide-boy will be taken into the hearts of a Geordie faithful already disillusioned with the club's London powerbase.