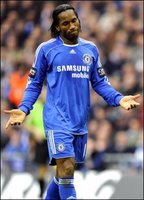 Despite hankering for a move away from Stamford Bridge for the best part of 12 months, it looks as though Didier Drogba will be seeing out the prime of his career in SW6. "When you have a contract it is important to respect it," said the big Ivorian yesterday, contradicting months of previous diatribes.

Drogba took Jose Mourinho's exit harder than most, and, as they advise, following the loss of a loved one he didn't bottle things up.

A familiar cycle played itself out last season: 1.
Drogba gives an interview to L'equippe saying how unhappy he is at Chelsea 2. A Swift retraction, blaming a misquote or translation 3. A beleaguered Avram Grant defends the striker. 1. Drogba gives an interview… 2. Swift retraction…. 3. Avram to his defense… and so on and so forth.

So, why did no one pull out the stops to sign a striker who has won 6 trophies in four years at Chelsea? Drogba himself modestly reeled off Real Madrid, Barcelona, AC Milan or Inter as his likely destinations during one session on L'equippe's couch; but, in spite of their need for a new striker, neither Barcelona nor Milan came in for him. Not even the Special One showed any real interest. Why did no one want the Premier League's number one hitman?

Although born in the Ivory Coast, Drogba spent much of his childhood in France, and the nation's sensibilities seem to have rubbed off on him. At 6ft 3ins and nearly 15 stone, Didier Drogba is a sensitive soul with a delicate disposition, and, like a good Roquefort, he always takes a while to come good.

Drogba's career began at a snail's pace. He only managed to convince Le Man to sign him on professional papers at the age of 21, and, by the time he was 25, he had only scored 15 goals as a professional footballer – 12 of them in the second tier of French football.
It was his second season at Guingamp in 2002-2003 that saw the genesis of the player we recognise today. Having finally settled at a club where he was happy and felt appreciated, the profligate striker grew an affinity with the onion bag, doubling his career tally with 17 goals.

His performances that season caught the eye of former Portsmouth manager Alain Perrin and earned him a £1.7 million move to Marseille. Accustomed to the French League, Drogba flourished at Marseille. In his solitary season there he scored 18 league goals; but, more importantly, 11 in Europe.

Drogba's power and pace and convinced Jose Mourinho to make him Chelsea's record signing at the beginning of his first season in charge. Although ideal in stature to spearhead the Portuguese's three pronged attack, Drogba struggled to settle in his new environment, bagging only 10 league goals in his first season.

More of the same followed in 2005-2006, with Drogba only finding the net 12 times in the league and once in Europe.

Despite spurning more than anyone's fair share of chances, Drogba kept his place in the Chelsea side throughout. Although he wasn't scoring, his work ethic and utilitarianism were the embodiment of what Mourniho desired in his charges.

It was only in his third season that, settled in London, accustomed to the Premier League, and perhaps spurred on by the signing of Andrei Shevchenko, we saw the evolution of hardworking, useful striker into one who combined these attributes with a clinical edge in front of goal.

His subtle sensibilities were finally fed with a new vein of confidence, giving him the self-belief and arrogance usually attributed to his adopted compatriots. Drogba finished the season as the Premier League's top goal scorer with 33 goals – the first player to do so without taking penalties.

Although plagued by minor injuries throughout the 2007-2008 campain, Drogba still averaged a goal every other game as Chelsea came so close on so many fronts.
Drogba has always been slow to adapt and it's unlikely this has gone unnoticed by prospective buyers in Spain and Italy. At £10-15 million and 30 years of age you're not given time to adapt to a new league. Some can do it, but, generally, they are well traveled midfielders with a wealth of experience, such as Claude Makelele and Deco. Even Thierry Henry, in all his pomp and ceremony, hasn't been able to cut the Spanish mustard. What hope does a delicate wallflower like Drogba have?