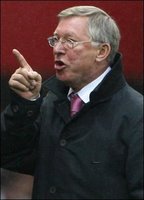 Sir Alex Ferguson has severed ties with all media outlets other than Sky Sports and Setanta. Addressing press journalists before tonight's Champion's League tie against Danish side Aalborg, the brusque Scot announced, "From now on, no matter how many miles you travel to get an interview, you won't get one."
The trouble has stemmed from United's pre-season tour of South Africa. When asked about his main title rivals Sir Alex responded, "Chelsea are an experienced side and I don't see outstanding progress coming from a team in their 30s." Comments that were pounced upon as a criticism of an ageing squad.
"I gave you access in South Africa and I shouldn't have given you access," lamented the Knight of the Realm this afternoon. Once again at the perpetual end of his tether.
The fact that his goat has been got three months after the initial comments - with Chelsea's creaking joints setting the pace – points to deeper lying discontent.
Formerly the Derren Brown of the Premier League, it seems the gruff Scot has lost his way a bit in the 'Mind Game' stakes.
Attacking a group as a whole is a big 'no no' in psychological warfare. Ferguson knows his criticisms of the Chelsea squad will have only galvinised a team still smarting from defeat in the Champion's League final.
By restricting his comments to facile media outlets, such as Sky Sports and Setanta, Ferguson will be able to get across his soundbites without them coming under much journalistic scrutiny.
Ferguson's relationship with the media has always been a stormy one. He has had nothing to do with the BBC since 2004, following a documentary claiming his son Jason was a scheming entrepreneur who exploited his father's influence, and was involved in dodgy transfer deals.
Perhaps Manchester United press conferences with Fergie are a thing of the past. It's unlikely they will be missed. Ferguson's indecipherable monotone is rarely a cause for excitement. A few lame gags by a gruff Scot followed by a polite smattering of laughter – it's like an inanimate Billy Connoly gig.