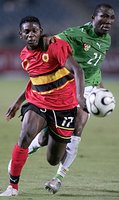 Africa's ad hoc approach to family planning means that babies are rarely given birth certificates. With a wealth of young sub-Saharan talent moving to the European leagues over the past two decades, questions have been raised as to whether some of these young lions are quite as young as they say they are.
Souleymane Mamam
'Officially' the youngest ever international, Maman pulled on the Togo shirt at the tender age of 13 years and 310 days. The youngster's early bloom led Manchester United to sign him in 2003. Farmed out to Royal Antwerp on loan, he was released after four years having made little progress. An unsuccessful trial at Motherwell last year highlighted just how little Maman has progressed since the age of '13'.

Obafemi Martins
Newcastle's pocket rocket has been knocking around for a while now. He tore his way through the youth ranks in Italy, and made his professional debut for Inter Milan at 17. There are doubts, however, about his real age. On the day Newcastle snapped up a promising 21-year old, both the Inter Milan and the Nigerian Football Association's websites had him down as being 27.
Samuel Eto'o
Eto's was another
early bloomer making his debut for Cameroon at 14. Now, at 27, he should be hitting his peak; but his recent loss of sharpness and pace are the signs of a player the wrong side of 30.

Freddy Adu
"Adu grew up playing against men three times his age," proclaims online tome, Wikipedia. Or were they only twice his age? The pint sized Ghanaian may be the right height, but his thickness of set and booming baritone have fuelled the fire of those who claim he is in fact 2 or 3 years older.

Yakubu
The burly Nigerian is prolific for Everton, but even David Moyes has questioned the striker's real age. "What people don't appreciate is that he's only 25, albeit a Nigerian 25, and so if that is his age he's still got a good few years ahead of him,"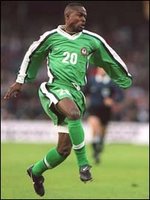 said the Toffees manager.

Daniel Amokachi
Another Evertonian for whom the numbers don't quite add up. If official records are to be believed the big man was only 19 when he picked up an FA Cup winner's medal with Everton in 1995. If that's the case then Amokachi's career tapered early with him retiring at the tender age of 26.
Victor Ikpeba
It took tragedy for doubts regarding the former Super Eagles Captain's age to surface. Ikpeba's wife died when he was 23, and obituaries poured in paying homage to their 8 year marriage. If the the date of their nuptuals is correct then young Victor was only 15 when they tied the knot.

Phillip Osondu
One of the few players to be busted for lying about his age. The star of the under-17 World Cup in 1987, he was snapped up by Belgian side Anderlecht in 1989. Having failed to impress in Belgium, Osondu's real age (3 years older than he said it was) came to light in 1991. His contract at Anderlecht was terminated and today he reportedly works as a cleaner at Brussell's airport.