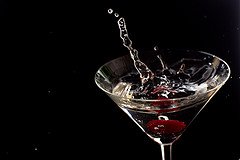 In all probability both Steven Gerrard and Frank Lampard will start for England tomorrow. It's 37th time lucky for the duo as Fabio Capello tries to do what Sven and Steve Maclaren couldn't and get them to play well together.

Has the Italian got a secret ingredient? Has he shaken or stirred his charges? If England's central midfield were a cocktail what would it be?



Lampard and Barry – Gin and Tonic
A classic mixture, but only for certain occasions.You wouldn't drink it every day when there's so much else on offer. Works well but leaves you feeling deflated the next day.

Gerrard and Barry – Cuba Libra
A drink for all occasions. The dark rum gets you fired up and is complimented by the caffeine in the cola. Add and a twist of lime it tastes good too. Gets you going, but goes flat after a while.

Hargreaves and Barry – Long Island Iced Tea
Very strong but it leaves a sour taste in your mouth. No one drinks it on a regular basis; but if you're looking for something with a real whack then it'll do the job. Generally an unpopular mix.

Gerrard and Lampard – Tom and Jerry
On paper it should be good. Brandy and Rum - two dark spirits with their own, not too dissimilar, virtues. However, with the flavour of each vying for prominence on the pallet, it descends into an offish mix of neither one nor the other.