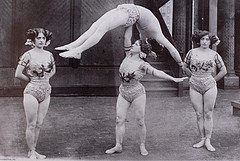 Rio Ferdinand has confessed that the pre-Capello England camp was a bit of a circus. They certainly did seem to be clowning around, but their poorly choreographed shows didn't entertain anyone.


The Lion Tamer – Sven Goran-Eriksson 
Through careful training and a calm demeanor he de-fanged the three lions, leaving them a whimpering cowardly mess. 
The Clown – Steve Maclaren
Made people laugh with slapstick mistakes, a red face and stupid grin. The wally with the brolly.

The Ring Leader – David Beckham
Always well turned out, strutting centre stage and the centre of attention. Actually did very little.

The Bearded Lady – Wayne Rooney
Gave us something interesting to look at. Facial hair when he shouldn't have had any, a stocky frame and small boobs.

The Acrobats – Joe Cole and Michael Owen
Small, skilled and agile. Try their best to dive near the net.

The Jugglers – David James, Paul Robinson and Scott Carson
These guys put on a real show. Balls were flying everywhere. Old pro David James mentored the young pretenders. Never failed to leave you with your heart in your mouth.

The Tightrope Walkers – Jermaine Defoe, Jamie Carragher and Paul Scholes
Always precarious. They could have gone one way or the other. Went wrong for Defoe in 2006 when he was controversially knocked off the wire by young acrobat Theo Walcott. Carragher and Scholes leapt on their own accord.