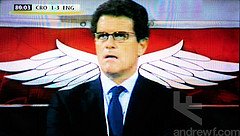 Giving Wayne Rooney license to play as an unfettered second striker, Fabio Capello has got the most out of England's most prodigious talent. With five goals in three qualifiers Rooney is flying under the Italian's guidance.
Yesterday, against Belarus, we saw the ferocity and intelligence of the Wayne Rooney who thrilled us at Euro 2004. The 19 year old whose performances in Portugal heralded the arrival of a precocious talent with more grit and determination than you could shake a bulldog at.
However, in the four that have followed, Rooney has failed to develop in the way in which many had expected. Having been forced to play out of position for Manchester United and always clearly frustrated in an England shirt, Rooney has not lived up to his initial billing.
Fabio Capello, however, is a practical man and the wealth of Rooney's talent and potential has not gone unnoticed. He has moulded the England team to get the most out of 22 year old.
Capello has implemented a traditional 4-4-2 formation; and the players he has selected and how he has told them to play have made Rooney the focal point of England's attack.
Emile Heskey's purpose is none other than a blunt foil for Rooney. The Wigan striker has not found the back of the net for his country in five years; however his work rate, strength and ability to hold a high attacking line allow Rooney more room in which to operate.
The interminable Gerrard-Lampard debate also gets dragged into the equation. Their roles are having to cater to for Rooney.
Capello has restricted Lampard to a more cautionary central midfield role. Although not the most technically gifted of the two, Lampard is more intelligent and disciplined than Gerrard. His ability to hold a deeper central midfield berth alongside Gareth Barry has freed up areas further up the pitch.
Gerrard did well coming in from the left last night and linking up with Rooney. However, a natural wide player on the left would be more beneficial offensively and defensively against stronger opposition.
For once, all is well - for now. But could we be heading towards a period of over reliance on the fiery Scouser? If Rooney gets injured or sent off then the whole charade falls apart, revealing just how toothless England really are. Although Heskey and Rooney are fast becoming a formidable partnership, scratch beneath the surface and the Crouch-Defoe combo is unlikely to strike fear into half as many hearts.