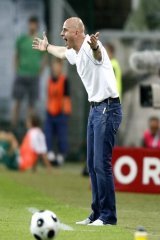 Yesterday, I remarked that Newcastle were a comedic embarassment and later that evening it seemed that more misery was about to be heaped on the toon army when they went a man and a goal down to gazillionaires Man City. A Beye lunge, frantic remonstrations, superb panto villain behaviour from Robinho as he managed to stem the flow of pain for a moment to confirm the affirmative penalty decision and then finally one of the cheesiest goal celebrations the Premier League has witnessed.
All good chuckles at St.James, unless of course you are a Geordie. However, City then proceeded to stroke it around in a very lackadaisical fashion, every inch the lazy millionaire playboys already anticipating their fat win bonuses. As a result, Newcastle had a reprieve and even though old Joe looks more caretaker than caretaker manager, he certainly has instilled some old school crazy gang blood and guts and despite the Ameobi scuff goal being a total fluke, they were well worth the point they finally earned.

Kinnear has revealed that he has recovered his taste for the game and would like to be considered for the post full time. After two battling back to back displays leading to 2-2 draws that seemed against the odds, could he get his wish ? Despite the fans not initially taking to him, Mr.Gor Blimey Guv'nor, I'm not a Cockney, I'm an Irishman could really stake his claim with a victory in the next game against fierce local rivals Sunderland. Crazier (gang) things have happened in the north-east and its quite possible that the club could get caught up in the fans short term enthusiasm such as they did with Glenn Roeder a couple of years back and make another blunder appointment - because truthfully, Kinnear may be a good short term fix, but is hardly a man to take Newcastle foward in the long term is he?


Receding Geordie God Alan Shearer has made noises for the first time that he could be prepared to give up his cushy BBC pundit job exchanging platitudes with Alan Hansen and take on the chalice so poisoned its toxic. Seeing as how he perennially distances himself from the job when it comes up every six months, the cynic in me makes me think that some prospective new owners are fast coming over the horizon with a bundle of cash. Just a thought.


An outsider for the post is former Newcastle loon Temuri Ketsbaia. The Georgian is currently in charge of Cypriot team Anorthosis Famagusta, currently riding high in the Champions League against all the odds, leading Group B as they are following a win over Panathinaikos and a draw away at Werder Bremen. Tommorow, he takes his charges into the cauldron of the San Siro against Italian giants Inter Milan, currently led by charismatic former Chelsea boss Jose Mourinho. Should the man from the troubled region of Abkhazia manage to get anything from this game, then surely his stock would rise even more and who knows ? A pretty crazy individual, famous for breaking his toe kicking an advertising hoarding celebrating a goal, he seems perfect for the role of holding the reigns of the buckling bronco that is Newcastle United Football Club.

Then there's Gazza. He's a Geordie, previous experience coaching Kettering and in a questionable state of mind. Sounds like a contender to me !