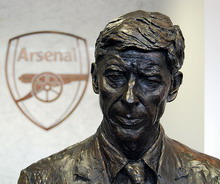 Andrei Arshavin, few would disagree, is an exceptionally talented individual. But many people were bemused that Arsene Wenger chose to sign another attacking player instead of a replacement for the dynamic midfield ball-winner Mattieu Flamini. 
However, if we look more closely at Arsenal's 2007-8 home fixtures with Man Utd and West Ham and the corrosponding 2008-9 fixtures, we can see that perhaps Arsene Wenger already had in his ranks a ready-made replacement for Flamini. Not Alex Song, as some may have thought, but the young Brazilian midfielder, Denilson. 
Wenger himself said of Denilson in January "If you analyse it a little bit in a deeper way, that means the ground he covers, how much ball he wins, how quickly he passes the ball, where his balls go, you will be quite surprised."  
The 4 chalkboards below go some way towards doing just that, and the results are quite surprising. Not only do the two players appear to have almost identical passing distribution and reliabilty but Denilson slightly edges Flamini with a 7 from 11 success rate with his tackles compared to the 5 out of 10 achieved by his former colleague. 
Which all leads us to believe that perhaps it was not the loss of Flamini that Wenger saw as most crucial to address this January but that of Alexander Hleb or Tomas Rosicky instead.
Flamini
Denilson