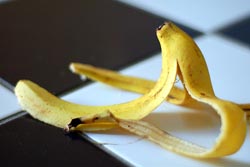 This week in Portugal the top three all looked to keep up their title chases but couldn't help behaving like little children.
You see one of them fell over and cut their knee and the other two stood around laughing and pointing.
Benfica 0 - 1 Guimarães
Benfica faced up to the team that pipped them to third place last season in a game that was typical by Benfica standards.
The so-called O Glorioso showed off the strength of their spine and the inadequacy of their strike force in equal measure.
Yellow-haired Yebda and Katsouranis bossed the midfield, as they so often do, but the wingers and strikers looked beyond inept.Reyes and Di Maria were completely barren of inspiration and Pablo Aimar provided more reminders of why he has failed to cut it as an attacking midfielder of the highest calibre.
Cardozo put in another lacklustre display in the lone striker position, but with David Suazo his main competition he'll remain Quique Flores's first choice striker. His 59th minute replacement, Nuno Gomes, at least got into a couple of good positions, but was only able to head into the ground or over the bar.
While Gomes is clearly the most naturally talented striker Benfica have in their armoury, he's 32 and still fairly unreliable. Strikers like him are not going to satisfy the needs of teams with title aspirations.
A striker currently with little in the way of title aspirations has recently been linked with the so-called Lisbon giants.
Who is that man? It's Middlesbrough's Afonso Alves, and he might not be as poor a signing as you think.
Despite bombing in the Premiership he scored 45 in 39 in the Eredivisie for Heerenveen, which shows he can really be a force in a weaker league. The fact that he's Brazilian should also make it easy for him to adapt to the Liga Sagres, where hoards of his sub-par compatriots ply their trade.
Goal goal goal
Guimarães looked solid if unadventurous, as many middling Liga Sagres sides do. The little possession they were able to muster led to few chances, but 10 seconds of rapid counter attacking football proved enough to win them the game.
After 66 minutes Marquinho picked up the ball on the half way line and ran straight down the throat of the Benfica defence. He then laid it off to his right for Roberto who caressed a left footed shot round the helpless Moreira.
It was the kind of goal that Benfica could have scored three or four times if they'd had the initiative, but instead they simply stopped with the ball to wait for support or found their unimaginative wingers thwarted by a hard-working Guimarães defence.
As the Benfica fans flooded out of the stadium on 80 minutes they were saying goodbye not just to their team, but to the title.
For while Benfica still face tough trips to Nacional and Braga, Porto look nigh on invincible and have a fairly easy run in that should cause them little to no problems.
Porto made it 15 league games without defeat as they easily put away the last team to beat them in the league.
That defeat was back on the 1st of November and it doesn't really look like there'll be many more coming this season.
The Dragons went ahead on 29 minutes courtesy of a Mariano strike, although they should have already been two up by then. Rodriguez had blazed an early chance high and wide from close range while Lisandro had pushed a weak ball under the keeper only to see if cleared off the line.
Lucho continued the profligacy by spooning a simple one-on-one into the stands, although he made up for it on 74 minutes with a tidy touch and half-volleyed finish.
Many see Porto as the weakest side left in the Champions League draw, which they arguably are, but they're still no pushovers.
They are very well-organised, strong and quick going forward with Hulk, Lisandro and Lucho each capable of being a real handful on their day and likely destined for a better club and league come the end of the season.
Meireles is the archetypal midfield hard man, while their full backs also get forward well, particularly Cissokho on the left.
If Bayern Munich, Villareal or Arsenal pull Porto out the bag, it's not beyond the realms of possibility that Porto could make it to the semis. If Man U, Chelsea, Liverpool or Barcelona come out I'd advise fans of those four clubs to pencil the semi-final dates into their diaries.
Sporting 2 - 0 Rio Ave
Sporting moved into second by walking to an easy victory over relegation probables Rio Ave.
Future Everton player João Moutinho continued where he left off against Bayern Munich by scoring another lovely goal. He's to be commended for the fact that his more than likely summer transfer hasn't led him to act like Miguel Veloso, whose petulance has probably ensured he'll be off the team sheet for the rest of the season.
Rochemback added the second on his return from injury with a low and hard free kick on the stroke of half time to help put last week's 7-1 drubbing behind them.
Sporting still look unlikely to win the league, but my money's on them winning next weekend's Carlsberg Cup final against Benfica.
The rest
It was a good weekend for a few of the teams down the bottom of the table.
Paços Ferreira put four past Leixões with no reply and Setúbal won 1-0 in what could prove to be a massive victory against their relegation rivals Trofense. Both victors now find themselves a comfortable five points clear of the relegation zone.
Things weren't so good for Belenenses who remain in the relegation zone after sharing four goals with Amadora.
Braga looked a little bit like twats as they drew 1-1 with mid-table tedium mongers Académica. However they remain in fourth place after Nacional failed to do anything other than draw 1-1 with Marítimo.
The top
Porto – 48
Sporting – 44
Benfica – 43
Braga – 37
Nacional - 36