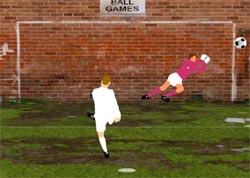 Football is a game rich in tradition. It began somewhere, possibly a pub car park, possibly somewhere involving grass and roots.
Somewhere along the line someone coined the phrase jumpers for goalposts. In homage to that and in the second of what could possibly become a regular feature on internet football games, let us this week examine Jumpers for Goalposts 2.
Forget Sensible Soccer, or Pro Evolution Soccer 5. Jumpers for Goalposts 2 might just be the best football game ever invented, on any platform.
The essential idea behind the game is that you've got 10 years to go from booting the ball around in your back yard to the Premiership and the World Cup.
It usually takes you couple of years to land a League 1 contract, and as long as you don't get relegated you'll get an offer from The Championship within a couple of years.
During the games you'll get a range of chances, including the fairly straight forward headers, vollies and penalties, to the trickier snap shots. If you can net enough chances you'll get three points and a win bonus, all of which help you live the life of a real life footballer.
Between games you get to go out on the lash with your team mates, pick up honeys, gamble on the team bus and deal with your agent as you look for a big money transfer to a higher division. You can buy cars and property to lure in the babes, and in turn a better bit of totty on your arm increases your media rating which will help you get attention from the bigger clubs.
However, the dilemma comes when your offers come in. All teams are rated out of 100 and there's usually a big money offer from a shite team, along with a lower offer from a better side.
Unlike a real life footballer you have to weigh up taking the money and probable relegation, or the slightly more humble wages and a chance of promotion?
I quickly learned that if you want to get anywhere with this game you take the lower wages. When playing with a higher rated team you get a lot more chances and usually end up a lot higher up the table, thus increasing your eventual chances of progression to the megabucks of the Premiership.
As you progress up the leagues you'll get scouts from bigger sides coming to check you out, along with hotter and more demanding wenches coming for a slice of your pie.
But here comes another dilemma. You've got to balance up satisfying your bitch with keeping your manager happy.
You can keep your manager happy by staying in every night, whereas your latest bit of poontang is only happy if you take her out of an evening and get into fights along the way.
If either of their approval ratings drops below 50/100, you could be for the chop. It's up to you to maintain the delicate balance that that so many real life footballers have failed with over the years.
Another pitfall for many players past and present has been a flutter on a game of cards, and life's no different for you.
After every game the Queens and Kings come out on the team bus and you can stake your wages on coming out victorious.
If you win you're rewarded handsomely with ten times your pay packet. If you lose, the temptation of another flutter is hard to resist.
If there's any criticism of this game is that is takes a good three hours to complete a season. This tends to result in one getting to bed at around 4am as you desperately push for a transfer away from Sheffield United.
It took me three careers to finally make it to the promised land, after Liverpool noticed my sterling work with Birmingham City and offered me £8000 a week.
The old card games become even more tempting now, with each one providing enough to fund a property upgrade or some serious nights on the town.
Eventually my career draws to a close with a 7th place finish in the Premiership, but my performances have still been enough to merit an England call up for the World Cup.
The crowning achievement of my career comes when I put away a 119th minute volley to win the England-Germany final, earning a £1m win bonus in the process.
As I reel around my living room am I imagining the toilet paper thrown from the crowds, or is that just my wife urging me to clean up the shit I've left all over the place after refusing to move from the computer for four solid days?
Rating: 9/10
Best feature: Gambling on the team bus 
Best score: 764410, with a 10 star girlfriend, 10 star car and £1,000,000 property 
What do you think of Jumpers for Goalposts 2? Can you do any better than me? Let us know.