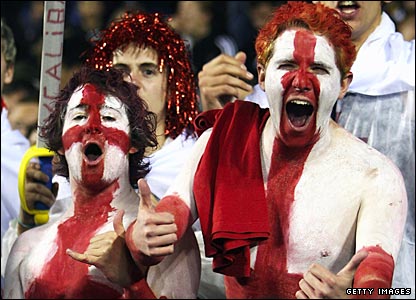 Alas the season is over and the barren terrain of a major tournament-less summer (the Mickey Mouse curtain raising Confederations Cup doesn't count) lies before us. I can console myself with the combination of facts that firstly, England virtually guaranteed their place at the World Cup next year with a couple of decent performances (against very meagre opposition, but you can only kick sand in the face of the seven stone weakling put in front of you and both Kazakhstan & Andorra were duffed and dispatched with relative aplomb) and secondly, in lieu of fact number one, I have booked my accommodation in South Africa!
Yes, that is right; 90minutesonline will be ably represented at the World Cup by at least one of its degenerate writers and who better than its internationally trailblazing, ever pompous, continental swashbuckler, The Rome.
I'm booked into a hostel on Capetown's notorious party road, Long Street, from 3 days before the tournament begins to (perhaps optimistically) the end of the second round phase – although if we're still in the mix, I'll extend my stay.
I think it will be an altogether different experience to the month I spent in Germany 3 years ago. Due to the incredible public transport infrastructure, upon my arrival at the campsite near Mannheim that I called home for the first fortnight, I was able to put together a whirlwind itinerary that saw me take in the fanfests in Frankfurt, Nuremburg, Koln, Munich, Stuttgart and Kaiserslautern amongst others.
Then, with England still in contention despite some dismal performances, I was able to pack away the tent and rock up to Heidelberg and claim a bed in the Jugendherberge for the remainder of the competition – well until the fateful day in Gelsenkirchen anyway.
However, given South Africa's size and still rather laborious and antiquated trains, I don't anticipate the same freedom of movement, especially given that the nearest host city to Capetown is Port Elizabeth/Nelson Mandela Bay, a mere 24 hours journey away. Most of the action is in amongst the clump of cities in the north east, so it looks like I'll be limited to soaking up the atmosphere in South Africa's glamour city.
Not that I'm complaining of course. I can't wait. Capetown should be a vibrant and pulsating with World Cup Fever – I presume by the fact that over 40,000 of the 55,000 available rooms have already been snaffled up that many others have done the same equation as me.
I'm sure it'll be an amazing roller coaster ride. However, I know that supporting England is like getting on that roller coaster after eating a greasy hot-dog or three – by the time it ends you'll be sick to your stomach. Being a desperate fool, I know that in the back of my mind, that little flame burns, that tiny voice, that ridiculous notion that we'll finally do it, finally win something and hence I can justify the vast outlay that supporting England overseas entails.
 The reality is of course that we will probably grind out some half decent results whilst still putting in mediocre performances. Weather, the length of the domestic season, WAG's and metatarsal bones will all be bandied around as possible excuses. Then, we'll come up against a major force in the quarter final, actually raise our game a bit and come within a whisker of winning, only to heroically draw before cracking like a collection of cheap vases and muffing all our penalties. Capello will look on sternly and stoically, praising the team to the media, whilst lambasting them in the dressing room, before sensationally quitting. Sound familiar? Sounds like England.