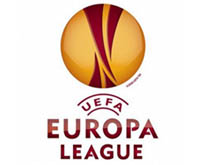 The new Europe League is many things.
It's Europe's second best club competition. It's the UEFA Cup. It's the refuge of the damned, (ie, Celtic) and it's now the proud owner of a wanky anthem.
The piece by Yohann Zveig and the Paris Opera was premiered at Friday's Europa League draw and is "distinctive" according to the UEFA website, "giving a sense of the atmosphere that will be felt immediately before a UEFA Europa League game".
Cue a snide comment about the atmosphere immediately before a UEFA Europe League game between, say, Lille and Genoa.
The first two seconds of the tune sound like the Three Tenors' piece from Italia 90, but it quickly drifts into an advert for an airline as the voiceover in your head says: "Imagine flying at 64,000 feet. Imagine watching a Ben Affleck movie. Imagine eating out of a box like a mental patient."
It then trips into a driving staccato number, backed by a heavy drumbeat worthy of a generic program about Africa on BBC World before adding a rising "weee" noise and Casio keyboard vocals that turn it into the introduction to the Wednesday night National Lottery draw.
Now I'm no music critic, but I think calling this "the perfect soundtrack to an amazing show" is something of an exaggeration.
Yet if we look beyond the music and the prospect of Lille vs Genoa, the Europe League has actually thrown up some quite exciting prospects.
The draw
The English neutral will find Fulham's group of Roma, Basel and CSKA Sofia something of a mouth-watering prospect, made more exciting by dint of Roy Hodgson's Fulham rather than the standard Aston Villa being in the mix. Fulham have shown they're not afraid to play real football, and their efforts in this competition should be worth watching.
Elsewhere Everton's placement in a group with Belarusian BATE Borisov and something of a resurgent Benfica should test the scousers with a both an Eastern European winter bruising and a semi-tropical test of defensive awareness. AEK Athens won't exactly be pushovers either.
One of Portugal's other teams in this competition, Sporting Lisbon, unluckily missed out on the Champions League to Fiorentina on away goals. They should view this as a blessing though, as the teams in the Europa League are closer to their level and won't dish out a 12-1 hammering to them as Bayern Munich did in last year's Champions League.
Heerenveen, Hertha Berlin and Latvian side FK Ventspils will test their mettle instead, but Sporting should make it to at least the last 16 if they can hang on to João Moutinho and Miguel Veloso.
Other groups to watch are group J, which features last year's UEFA Cup winners Shakhtar Donetsk, and group H which pits Schteve McClaren's FC Twente against Fenerbahçe - home to Roberto Carlos, former Newcastle player Emre Belozoglu and Colin Kazim-Richards - Steaua Bucharest and Moldovan giants FC Sheriff.
Sheriff have won nine domestic titles on the bounce, six Moldovan cups and were the first Moldovan team to win an international title when they bagged the Commonwealth of Independent States Cup in 2003. They won it again this year, but no amount of Moldovan silver is likely to make them anyone's favourites for the Europa League.
The relatively local rivalry between Panathinaikos and Galatasaray in Group F should also be worth keeping an eye on.
How it works
The Europa Cup's 12 groups of four will be whittled down to 32 teams in December when the first and second-placed teams go through from their groups to a knock out phase along with the eight third-placed teams from the Champions League.
The tournament then rattles through a standard knock-out format until someone wins it in Hamburg on May 12th.
The bookies fancy Roma, Hamburg, Villarreal, Everton and Werder Bremen, although much as it pains me to say it a newly-invigorated Benfica boasting Javier Saviola, Oscar Cardozo, Hassan Yebda and Angel Di Maria could be there come the end.
New coach Jorge Jesus got Braga to the last 16 last year and has the ability to go much further with a better side, which Benfica under him undoubtedly are. Although having said that Braga are currently top of the Portuguese Liga Sagres.
Whatever happens, some lucky buggers will be dancing away to Yohann Zveig's anthem in a German beer hall, while others will be thinking about their flight home, at 64,000 feet, watching a Ben Affleck movie and eating out of a box like a mental patient.