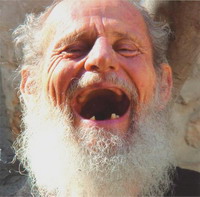 Footballers are used to putting their feet through balls, but they just as often put their feet into big sticky lumps of linguistic crap. 
It is in recognition of their innate ability to do so that 90minutesonline here provides a top ten of stupid footballer comments.
1.  
"I was watching the Blackburn game on TV on Sunday when it flashed on the screen that George [Ndah] had scored in the first minute at Birmingham. My first reaction was to ring him up. Then I remembered he was out there playing."
Ade Akinbiyi is hardly known for his incisive play, or his awareness of things such as team mates, opposition defenders or the backs of nets. The above quote perhaps explains why.
God only knows what he thinks when he sees fans wearing replica shirts in the crowd? "They're in good positions. Maybe I'll pass to them."
Or what goes through his mind when a defender dispossesses him? "I should send him a 'Congratulations' card?"
Or what he thinks when he bags one of his all too rare goals? "I should have set the video for that, even though it's not on TV and I don't have a video player."
Welcome to the magical world of Ade Akinbiyi.
2. 
"I would not be bothered if we lost every game as long as we won the league."
Footballers are seen by the majority of people as being quite a thick bunch, and Mark Viduka did nothing to counter such generalisations with this comment.
He came out with it while at Leeds, whose 21 losses in the 2003-04 season were enough to see them relegated to the Championship.
If only they'd lost a few more, things could have been so different, hey Mark?
But in fairness to Mark, he's not the only footballer to have made a mathematical gaff. Ruud Gullit once said: "We must have had 99 per cent of the match. It was the other three per cent that cost us."
3.
"I couldn't settle in Italy - it was like living in a foreign country."
Footballers are hardly picking up A-grades in their geography classes to make up for their mathematical Fs.
Ian Rush has given two excuses for the above comment:
It was a joke that Kenny Dalglish made up.
I never said it.
Either way Rush managed only eight goals in 29 games at Juventus and set a precedent for British players having a bad time abroad.
That still didn't stop one-time Villa player Mark Draper longing for a move abroad though. "I'd like to play for an Italian club, like Barcelona," he said.
4.
"I faxed a transfer request to the club at the beginning of the week, but let me state that I don't want to leave Leicester."
Stan Collymore's comment showed how grateful he was to then-Leicester boss Martin O'Neill for salvaging his career after a spell of clinical depression.
Collymore had rekindled his footballing reputation by scoring five goals in eleven games for Leicester, but after he got what he didn't want, apparently a transfer away from Leicester, his career had only 10 more professional games left in it.
His crystal clear comments and analysis of footballing events are now broadcast on talkSPORT.
5.
"Without being too harsh on David Beckham, he cost us the match."
Ian Wright quit BBC punditry after saying he was forced to become a "comedy jester". If that's the case Alan Hansen and Gary Lineker can take the blame for the above comment after Beckham's sending off against Argentina in 1998.
Wright came out with another truth-laden nugget when he was linked with the England manager's job after Kevin Keegan's departure:  "I've got the passion but no idea of tactics," he said. "I'd be like a black Kevin Keegan."
6.
"There's no in between - you're either good or bad. We were in between."
The brilliant Gary Lineker, now charged by the BBC to present seemingly all of their sports programmes, whether it be their Sports Personality of the Year, Golf…oh, except that annoying Jake Humphreys gets the Formula One, and the chubby, jovial guy from the One Show gets to do Match of the Day 2.  
7.
"One accusation you can't throw at me is that I've always done my best."
Well Alan Shearer, we sure can't.We see you on Match of the Day and we saw your work as manager of Newcastle United. Five points in eight games at the Toon your best…or was it?
Still, you love Newcastle, we know that: "I've never wanted to leave," you once said. "I'm here for the rest of my life, and hopefully after that as well." Are you there now Alan? Doing your best as usual Alan? They've got 24 points from 11 games without you Alan.
8.
"I can see the carrot at the end of the tunnel."
Clichés, truisms and idioms have been scientifically proven to compose 86% of the average footballer's vocabulary.*
The insides of their heads have also been proven to be made up of the components of leftover washing machines.**
Consequently everything gets a bit mixed up and people like Stuart Pearce make comments about carrots and tunnels; people like ex-Spurs man Mitchell Thomas say: "All that remains is for a few dots and commas to be crossed," and people like Gazza say: "It was a big relief off my shoulder."
* Possible margin of error of up to 86%.
** Subject to confirmation.
9.
"My parents have been there for me, ever since I was about seven."
Arguably the most famous footballer and maybe the most famous father in the world, David Beckham has had a few spats with his own father in his time.
Ted Beckham's book, David Beckham: My Son, not only has an intelligent title, but also tells us of Becks' parents' worries that Victoria might ruin young Dave's football career.
It doesn't say anything about them leaving Dave to roam the wild, hunt for food and wash his own clothes in a stream for the first seven years of his life though. At least not in the first 50 pages.
10.
Reporter to Newcastle's Shola Ameobi: "Do you have a nickname?"
Ameobi: "No, not really."
Reporter: "So what does Bobby Robson call you?"
Ameobi: "Carl Cort."
Amnesiac tendencies were one of the things that made Sir Bobby Robson such an endearing character.
He was like your granddad, sitting there babbling slightly incoherently, but he was unlike your granddad in that he got England to a World Cup semi-final.
He was like your granddad in that he'd call people by the wrong name, but they'd forgive him because he was an all-round legend.
He was like your granddad in that he'd always remember the name of his favourite grandkid and repeat it endlessly: "What can I say about Peter Shilton? Peter Shilton is Peter Shilton, and he has been Peter Shilton since the year dot."