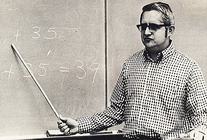 Chelsea's Didier Drogba is one of the game's great enigmas. He can be utterly abject or almost unplayable, depending on the way the wind is blowing.  
This season he has largely been the former, struggling to even hold down a first-team place under Luis Fillipe Scolari.
However, since Guus Hiddink took charge at Stamford Bridge, the burly Ivorian has shown glimpses of his dynamic best.  
Against Wigan on Saturday Drogba occupied the central berth in Hiddink's 4-3-3/4-5-1, with Nicolas Anelka and Solomon Kalou providing the width from left and right respectively. 
Drogba played his lone-striker role with aplomb, always looking to receive the ball, holding it up and linking-up play. His excellent performance is highlighted by the passes he made during the game (see below right). 
Contrast this to the game against Middlesbrough last month (below left). Whether due to lack of confidence or effort he was far less effective, making shorter and less dynamic passes.       

Drogba has insisted that he was not part of the alleged player revolt to relieve Scolari of his job. Whether that's true or not, his performances on the pitch certainly didn't help the Brazilian's cause.