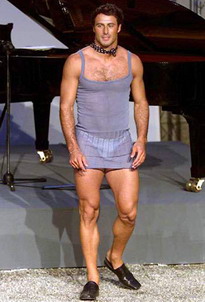 White Hart Lane has long been a source of humour to the impartial observer, but the late 90s was a high watermark.
There was Christian Gross and his London underground 'ticket to the dreams', a pre-'Sir' Alan Sugar struggling to juggle a failing club with a crumbling Amstrad empire, all coupled with the fans' customary hubris. A heady mixture of farce.   
Much like today, the club was characterised by a succession of over-priced, over-paid signings failing to deliver anything resembling 'the goods'. But amongst names such as Chris Armstrong, Jose Dominguez, Ruel Fox and Paolo Tramezzani, there was one whose poor performances stood out above the rest. That man was Ramon Vega. 
Signed from Cagliari for £3.75m, Vega was the kind of centre-back that sapped an entire team's confidence. Good in the air, almost every other aspect of his game was sorely lacking. During his time at the club his inconsistency and gaff-prone propensity made him a target of derision from a White Hart Lane faithful long accustomed to suffering fools gladly.
Vega was always a little bit different from his teammates, and not just in terms of a lack of ability. Hailing from the sleepy Swiss canton of Olten, he was well educated and had completed a degree in Banking and Management at the Zurich Business School whilst playing for Grasshoppers.
Perhaps it was the sense that football wasn't his life's true calling, but Ramon always had an eye open for entrepreneurial opportunities. Whilst at Spurs he became a partner in a jewellery shop in Romford and invested his wages in the Swiss property market.  
On the pitch things never picked up, and a loan move to Celtic followed in 2000. He made 18 appearances at Parkhead and was part of a team that won the domestic treble. But despite this his erratic form didn't earn him a permanent contract and instead he joined Gianluca Vialli's Watford.
The Championship (then Division One) was not to prove a more fertile stomping ground, as Vega continued to struggle at his new club. Mistakes, often big ones, were his calling card, along with poorly weighted passes in dangerous areas and rash tackles in and around the box.
A poster on the Watford message board, benbenny28, described his abiding memories of Vega: "That unique style - like a skier on an uphill climb, all hunched shoulders, pumping arms and slowly sliding feet… He couldn't do anything - not even the most straightforward things – consistently". 
As Vega's career in football came to an end, his business interests grew. After retiring in 2003 he became a founding member of the Duet Group - a financial conglomerate specialising in asset management and private equity - and focused his attentions on the procurement and development of property.    
In 2006, he appeared on British TV screens somewhat bizarrely in the BBC's A Place in the Sun. In the show Vega and his business partner set out to establish 'The Ramon Vega Soccer School' in Marbella, southern Spain, where holiday-making children could spend their days learning the game's finer arts from Ramon.  
The school wasn't a success, and despite a second ill-fated attempt in West Yorkshire, the venture failed to get off the ground.  
Quite the surprise then to hear earlier this year that Ramon Vega was trying to buy Portsmouth football club for a fee estimated to be around £30m. 
Vega lodged an official bid with Portsmouth's owner Alexander Gaydamak in February, with negotiations getting to an advanced stage before a recurring theme cropped up. A statement release by Portsmouth explained the decision to reject the bid: "As Mr Vega was consistently unable to demonstrate an ability to secure financing for his proposal". 
And there we have it. In football as in business Ramon Vega has come close to the heady heights, but things have never quite panned out. Ultimately, a lack of consistency and due diligence in both has been his undoing.