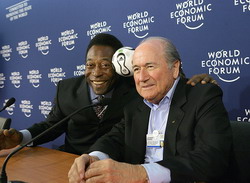 Are you in favour of a strong national team? Of national team players playing for the top clubs in your country's league? Of youth players being trained and then getting access to the first team at their original club? Do you want players who have come through the youth system at a club to sign their first pro contact with that club? Do you like short shorts? 
It's that man Joseph 'Sepp' Blatter asking the questions in a recent statement on FIFA's website. Ok, he didn't ask about short shorts this time, but he did say that if you answered "yes" to these questions, then 'like me you are in favour of the '6+5' rule' 
Regardless of whether you agree or disagree with Blatter's aims, it's important to consider what  6+5 will really add up to for football as we know it.  After all the 6+5 is just one way of addressing the issues Blatter raises. To accept it on this basis alone would be to forget to look before leaping. 
We can take that pre-leap look now, however, and start by assessing what's behind the aim to have national team players playing for the top clubs in your country's league.  
The Premiership seems to already have fulfilled this aim with all but Beckham, Downing and Johnson playing for Premier League clubs in the top half of the league. So if the 6+5 is not merely a clandestine plan to break up recent Premiership dominance in Europe, it would makes sense then that the objective here  is either to help remove the barriers preventing the next crop of young players coming through; or it's to stop football's equivalent of the brain-drain as nation's top talents leave home soil to seek their footballing fortunes in the top European leagues.  
It should be taken into account, however, that smaller nations without the infrastructure, finances or fanbase to host a world-class league, such as Serie A , Liga BBVA or the Premiership, do also benefit from the experience gained by their top players competing and training week-in-week-out with other world-class footballers and coaches, as no doubt does the development of the game itself. 
So perhaps then it is allowing more 'access' to the first team for young players that is key for Blatter in this scheme. But in Trevor Brooking's opinion what is stopping more young players making the breakthrough into professional first-team football in England is not the coaching kids receive in football clubs' academies but that which they receive beforehand. 
'We need to change what is being coached. Let's have more small-sided games so that they have more ball time. Let's allow them to have fun, take away the importance of winning and stop the young players being afraid of making mistakes. Concentrate on first touch and technique, allow that a short pass can often be more of a killer ball than the big hoof up to the centre-forward. 
'If we don't do all these things then even the kids identified as elite, when they join academies at nine, will still be starting behind [players in other countries]. By the time they are competing at 16 with a foreign youngster they have even less chance of being taken on.'  
Sam Allardyce echoed that sentiment  'We don't grow top sportsmen from a young age,' says the Blackburn boss. 'Football cannot be expected to develop players from six years old, as it is, without proper quality identification programmes and ways of schooling young people of promise through the early ages to develop their talent' 
Brooking also blamed English attitudes towards football coaching: 'Here you work your way through the age groups and think you have to be in the 16-plus group to earn any money. By then coaches are working with damaged goods, players who are simply not good enough.' 
Gordon Taylor, the PFA chief executive provides somber evidence that Allardyce and Brooking could well be right  
'Six hundred each year join Premier and Football League clubs at 16. Of those, 500 will be out of the game by 21. It's a big wastage and not good enough.' he said.  
But perhaps if contrary to Blatter's plans more English players, especially those young players struggling for first team football, were willing to go abroad to play instead of settling for reserve team or lower league football on home soil, they'd not only learn from the exposure to different styles of play, tactics and mindsets than those which are predominant in England, but perhaps they'd play more regular first team football too. However that begs the question of whether young English players are actually up to scratch? 
More recently Uefa identified the massive squad sizes being amassed by top clubs nowadays as another factor which inhibits a young player's chances of making the first 11. Uefa general secretary, David Taylor, speaking about Rafa Bentitez's Liverpool Squad of 62 said: "Ridiculous. 62? You could have two full-size practice games. You can only field 11 at one time. It's an open question as to how many you actually need. Is it 20, 25?". 
William Gaillard, special adviser to Uefa president Michel Platini, suggests that some action on this might be imminent "One proposal which seems to be gaining a consensus is limiting the number of professional contracts as we already do in the Champions League.
However it's difficult to predict whether reducing squad sizes would increase young players' first team options by removing competiton or whether it would be the young players themselves who would not make the cut if squads were suddenly reduced in size. In which case they'd not only be denied the top level coaching they currently enjoy but would be in real danger of joining the already alarming number of football drop-outs Taylor talked of. 
My instinct is that there should be some sort of limit, around the 50 mark, but that should be accompanied by the abolishment of the January transfer window. In that way hands would be  forced, much like Arsenal's has been this season, to rely on young understudies when an injury crisis hits, but the best available player would still be chosen to play, regardless of his passport. 
Premier League youth scout Alfie Apps reveals that another factor denying young English players access to Premier League football is that they are effectively being priced out of the market 'The general level of compensation set by the Premier League to buy a [young] player from a club who has been an international in his age group is around £400,000. In Europe it's usually less than a quarter of that, about €120,000 [£85,000]. 
If the 6+5 rule were to come into effect you can only imagine this trend would be further exaggerated as clubs scramble to fill their ranks with the best young English players on the market. At least as things stand, clubs like Wigan or Everton can hold onto the hope they might just be able to sneak talents of the likes of Palacios, Valencia or Arteta under the radar. 
But in a straight-forward financial battle for the nation's best , however , you can only imagine that the top clubs would come out with all the prize assets. Making it difficult to see how it could possibly help create the 'competitiveness and the unpredictability of results' that Blatter claims the 6+5 rule would bring. 
Nor how it would strengthen the international squad by any means other than the Man Utd tutelage they'd all likely find themselves under once the rule came into effect. There is of course a chance that it would spur on the sorts of changes Brooking and Allardyce talk of. But it's important to ask at what cost? 
Perhaps the most drastic of changes that the 6+5 could incite would be the defection of the biggest European clubs to a super league of their own design. Plans for such a league, similar in structure to the American franchise leagues of the NBA or NFL, are already being formed and if recent reports from Spain are to be believed all the major clubs but Bayern Munich approve.  
However, if big clubs have resisted taking such steps as of yet, it's not hard to imagine how a plan as disruptive as the 6+5 could rock the boat sufficiently for them to take the plunge. Such a move  could be disastrous for smaller clubs who'd no doubt see fan numbers and TV money drastically diminished with fewer derby fixtures or glamour ties, and the inevitable loss of prestige the Premier League would suffer as second fiddle to a league of European elite. 
Many who share these concerns have consoled themselves up to now with the expectation that the 6+5 would be deemed illegal under European  Labour Laws, but a recent statement from Blatter shows that he's very confident that won't be the case: 
'The 6+5 rule does not contravene the European Labour Law on the freedom of movement. Clubs will still be free to take on as many foreign players as they want. When a match kicks off however, they will have to have six players on the pitch who are eligible for the national team of the country in question. Furthermore, the '6+5' rule supports another European Law, namely regarding having the broadest and fairest possible competition and restricting the concentration of finances and economic monopolies.'  
What's more, it's clear that Blatter's is still convinced his scheme is the answer to all of football's ills. I personally can't help but feel that introducing the 6+5 rule to bring about the 'fairest possible competition' and restrict the 'concentration of finance and economic monopolies' is cutting your nose off to spite your face - the equivalent of trying to even out Formula One by making the drivers pedal. The big teams will still have the advantage but the spectacle will be all the poorer for it.  
Some alternate suggestions to the 6+5- 
· Grant Champions League places to finalists of the UEFA cup , no longer allow the 3rd placed Champions league teams into the draw to boost spectatorship and prestige of the tournament and distribute European riches more evenly.
· Set a squad limit of around 50 players and abolish the January transfer window to give younger players more chance of first team football.
· Introduce a UEFA player wage and transfer 'tax' that raises funds for youth and coach development and the support of lower league teams.
· 3 Points for a win, 1 point for a score draw, O for a nil nil, minus 1 for a loss- to encourage more attacking football, and so increase spectatorship and hence finances throughout the leagues.
·  Short shorts?  
Let us know what you think of the 6+5 or any of the other suggestions made in the article or give us your alternate ideas in the forum.