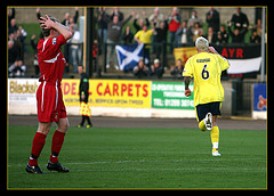 Just a few weeks and games remain in the season, every upcoming game is tagged with a reminder that at this stage all fixtures are must-win and of intense importance. The FA Cup semi-finals are in some ways like a paradox, it is make or break for the next few days, on the one hand there is tantalising glory, and then on the other, bitter disappointment.

The pre-match hyping had both semi-finals reasonably well matched, and all four clubs concerned were in relatively good form. Arsenal had many reasons to be optimistic before taking on Chelsea at Wembley on Saturday. It was the first visit to the new version of the national stadium for the Gunners, and only one defeat since mid-December had given fans like myself a reaffirmed faith in our ability to win trophies.


Last Wednesday's Champions League quarter-final winning performance was superb, Villarreal were easily dispatched and confidence seemed to be fully restored. Chelsea meanwhile have been goal-ballistic in recent games, if you didn't like Guus Hiddink before (and why not?!) you have to admire him now. Even when Chelsea were winning everything under Mourinho, at least you could justifiably say they weren't that great to watch. Under Hiddink Chelsea have become akin to Keegan's first stint at Newcastle, only more likely to achieve something.

Lo and behold that Saturday's semi-final did not turn into a classic after all. Both teams started nervously and from the off there was an air of extreme tension around the match, although Arsenal did look the more threatening despite a couple of scares. In the eighteenth minute Arsenal created their first real opportunity and in doing so established an early lead. Kieron Gibbs deputising at left-back was impressive and was responsible for the cross across Chelsea's penalty box which found Theo Walcott.

Walcott connected with a half-volley, which to the delight of not just myself deflected slightly off of Ashley Coles' hand. The shot beat Cech and Walcott had grabbed a goal in his third consecutive game and given Arsenal the initiative. Unfortunately this wasn't to be taken as both sides continued to gently probe each other, and slowly Chelsea got more involved. Even so Hiddink's team did not carve open many clear chances, and it was to be hugely frustrating when in the 33rd minute they snatched an equaliser.

Malouda received the ball from Frank Lampard and then ran on towards the Arsenal goal, he cut inside and as Eboue held off, he took the opportunity to hit a low accurate shot which beat Fabianski inside his post. It was a poor piece of defending overall, which has been rarely seen in recent months by Wenger's team. However well taken the goal was Chelsea should of not been gifted the opening.

It very nearly and quickly got much worse for Arsenal, old-boy Anelka stole the ball in the penalty box and probably should of scored. Instead his shot ricocheted off the post and away to safety. In the second half both teams continued as before with neither showing a great deal of industry, and as time wore on it became more obvious that Arshavin was a glaring omission from the starting line-up.

Chelsea may have looked the more dangerous as the game reached its latter stages, but chances were still rare and extra-time was looking increasingly likely. Then with only six minutes remaining, Lampard hit an innocuous looking long ball over midfield towards the Arsenal goal, Didier Drogba raced on and far too easily out-muscled Mikel Silvestre.

Fabianski meanwhile inexplicably raced forward off of his goal-line in an attempt to challenge Drogba. The result was predictable as the Polish 'keeper missed the ball and was rounded, to my despair Drogba was then left with a gaping net to aim for and Chelsea had their winning goal. Frustrating to say the least, why did Fabianski not stay back and force Drogba into beating him, and where had Arsenal's recent dominant form evaporated to?! The Gunners were very capable of defeating Chelsea and the FA Cup is a missed prospect, roll on the Champions League I say?!

So to Sunday's clash between Manchester United and Everton. Ferguson's team were still being touted as potential winners of a clean sweep of trophies, despite the odd wobble they've had in recent weeks. They would of been wary though of underestimating Everton, who have established themselves as consistent top-six material under the seven year astute leadership of David Moyes (a potential successor at Old Trafford one day).

The first half was a game of few chances, Ferguson had rotated his squad with Rooney and Ronaldo being the key absentees, whilst Everton were satisfied to contain 'United. The most significant goal-mouth action occurred when Joleon Lescott almost scored an own goal, touching a cross from Rafael onto his crossbar.

The second-half saw far more drama as both teams showed a willingness and desire to settle the match in regulation time. Ten minutes after the restart, Tim Cahill demonstrated how much of a threat he is when he found himself in space and hit a low drive from more than twenty yards. It forced a good save from Ben Foster and showed that Everton weren't willing to sit back an invite pressure by simply defending.

Then what was destined to become the major talking point came about with a little over twenty minutes left to play. Danny Wellbeck surged past Phil Jagielka into the Everton penalty box when he appeared to take a knock on the leg from the England defender and was sent sprawling. Tim Howard was fast approaching the scene but it is difficult to say if he'd of made the save, either way there was a moments hesitation and then disbelief and a comical rage from Ferguson when the penalty was denied.

Much will be made of Mike Riley and if he was atoning for an alleged allegiance to Manchester United. In fairness it wasn't an absolutely certain penalty, there was some doubt over the intent, but I did expect to see it given. I have to admit I was delighted it wasn't. The match continued to be peppered with slight half-chances, notably a long-range Wellbeck effort and the threat of Lescott at set-pieces.

Eventually the semi-final drifted towards extra-time and the haunting spectre of penalties. Ferguson responded by bringing on Dimitar Berbatov, who was typically lackadaisical but when coupled with his poor overall play made him seem distinctly disinterested. Cahill meanwhile crafted another effort which required a smart save from Foster's legs.

Everton were more galvanised in the second period of extra-time and increasingly attempted to pick through the impressive defensive pairing of Ferdinand and Vidic. The highlight again involved Cahill who turned Vidic with ten minutes to go, leaving him through on goal. Riley signalled for a foul against the Australian international who was rightly outraged, considering the earlier penalty claim though it seemed fair enough.

Penalty shoot-out it was then, and all the neutrals gleefully got comfortable to witness someone's misery. As it turned out there wasn't long to wait, after all his hard work Tim Cahill looked poised to become the scapegoat villain by missing Everton's first penalty. Unbelievably Berbatov stepped up and hit a shockingly poor penalty down the middle into Howard's legs.

Leighton Baines scored Everon's first penalty only for Ferdinand to then miss United's second. He hit well to Howard's right but the former Manchester United goalie was equal to it. From this point on there were to be no more misses or drama, rather tension instead. Phil Neville must have been immensely pleased to score against his old team and to be captaining Everton in their quest. Vidic, James Vaughan and Anderson all traded penalties and it was left down to Jagielka to send the blue half of Merseyside potty.

He had missed the decisive spot-kick in Everton's last penalty shoot-out with Fiorentina in the Uefa Cup, this time there was no fear and his firm shot was too quick for Foster. Everton will face Chelsea in the FA Cup final and I will certainly be rooting for Moyes and Everton to cause another upset, they should have every chance...