UEFA Cup a load of this - Preview & Predictions!
Details

Written by

The Rome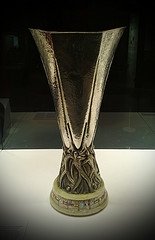 Whilst most people, including the Champions League-centric media, are creaming themselves about the return of Europe's 'elite' competition next week, I'm far more excited about the return of the UEFA Cup over the next couple of days.  
I'm sure the fact that I have a vested interest in it as an Aston Villa fan plays a large part in that, but by and large I find the UEFA cup a more interesting and unpredictable tournament. The CL will generally provide you with the same familiar faces from Western Europe's top leagues, whereas the UEFA cup knock out stage provides a far more diverse range of teams representing countries from all over the continent.  
Now that the grind of the lame group stage phase is over, we have reached the exciting business end of the contest. Here is a preview and some predictions.