Who killed Joe Cole?
Details

Written by

David Moftakhar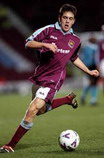 Although widely admired domestically, not everyone would agree that Joe Cole deserves a place in the top bracket of English players. However, ask a continental observer which English player they most admire and amongst the Wayne Rooneys, John Terrys, Rio Ferdinands and Steven Gerrards, there are a surprisingly large number of Joe Coles.  
In England, Cole is seen as somewhat of a luxury. Someone who can add a little bit of magic, but whose importance and effectiveness pale in comparison to that of a hard-working midfielder.