What's going in and out of Portugal this January?
Details

Written by

Ian Shine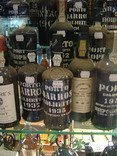 Back in 1703 some Portuguese chaps and some English chaps signed a Treaty, the Methuen Treaty it was called, to allow the import of Portugal's finest Port to England at a low duty, all because the French were at war with the English and consequently wouldn't let them have any wine.
Since then the English have remained partial to a drink and Portugal has continued to have its finest treasures poached by the blighters, but apparently not this month.